Frank Gratkowski Quartet: Facio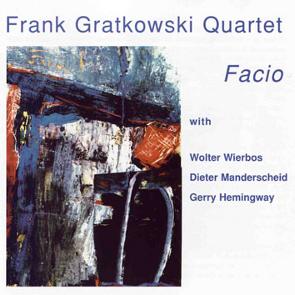 Veteran German saxophonist/multi-clarinetist Frank Gratkowski's latest offering,
Facio
, is an ambitious nine-part suite covering a swath of musical territory—from composed ensemble sections to free improvisation, delicate whispers to ferocious sonic assaults. But the different facets are skillfully joined together—the composition offers a hint of structure to the improvisations and the free playing adds spontaneity to the written material. In the capable hands of trombonist Wolter Wierbos, bassist Dieter Manderscheid, and drummer Gerry Hemingway, Gratkowski's music lures the listener into the journey like a storyteller alternating between action, wit and quiet reflection to keep things constantly moving.
"Evocation" opens with a quirky, staccato head played in unison while Gratkowski's clarinet floats above. The trombone eventually spars with the leader and the movement loosens with the rhythm section adding its own extrapolations of the theme, until it melts away into an atmospheric section that segues into "Moving Shades." The quirky theme returns in "Mix Up," this time with Hemingway playing over top until the ensemble explores extended techniques for additional color. Bowed bass and hushed reeds elicit spacious, quiet textures on "Seek," which slowly blossoms into the quicker "Rush," featuring burning solos from Wierbos and Gratkowski, over frenzied rhythm.
The transitions between sections are smooth and natural, despite the sometimes extreme sonic differences. "Interference" opens with warbling sounds and forceful accents, offset by the ominous bass clarinet. On "Low," a Hemingway drum solo builds into the aptly titled "Outburst," where each player makes a statement. The final movement, "Celebration," restates the initial theme, which sets up a rollicking, almost funky groove by the rhythm players before the pieces slowly drop into minimal, repeating phrases.

The musical range on Facio is impressive, for what is covered and for how seamless the musicians make it all sound.

Track Listing: Part 1 [Evocation]; Part 2 [Moving Shades]; Part 3 [Mix Up]; Part 4 [Seek]; Part 5 [Rush]; Part 6 [Interference]; Part 7 [Low]; Part 8 [Outburst]; Part 9 [Celebration]
Personnel: Frank Gratkowski: alto saxophone, clarinet, bass- and contrabass clarinet; Wolter Wierbos: trombone; Dieter Manderscheid: bass; Gerry Hemingway: drums
---