Emma Salokoski Sings Svenska Visar in Helsinki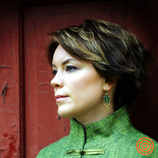 When the paths of two considered but disparate artists meet on stage before one's very ears and eyes expectations are high. When they choose to perform in a language untried before by the singer one might expect disharmony—but the association of Finnish funk singer Emma Salokoski with Ilmiliekki, a young free-form Finnish unit, at the Viapori Jazz Festival on the historic island fortress of the same name (commonly called Suomenlinna) in Helsinki harbour, it proved to be a marriage obviously condoned in the heavens.
In fact both singer and band share many links, hailing from the capital area, playing in the same downtown clubs and the same summer festivals around Finland and Scandinavia. But until that damp evening in the old bakery of the eighteenth century Russian fortress neither had joined forces to tackle their second native and cultural heritage —Swedish. An Evening of Swedish Evergreens would be an appropriate translation for an evening of songs selected by Salokoski to include works by poets Nils Ferlin, Anna-Greta Nystig-Sättare with music by Liile Bror Söderlund and Reser Anna Larsson, as well as two traditional tunes and one of Salokoski's own compositions. While none are widely recognised names in the English speaking world, the application of the skills of singer and musicians in arrangements of a conventional repertoire produces a fusion that is at the same time experimental and classic, exciting and restful
Salokoski's previous recordings have been primarily in English with her 7-piece retro-funk band known in Scandinavia as Quintessence. Ilmiliekki have recorded
March of the Alpha Males
on TUM in 2003—with pieces by pianist Tuomo Prattala, drummer Olavi Louhivuori, and trumpeter Verneri Pohjola, as well as covering Radiohead's "The Tourist" and Coleman's "What Reason Could I Give". On the final evening of this local festival the band provided a balance of lightness and energy that took the singer from whispered melancholia, through a hand-bell reggae adaption of a children's rhyme Kling Klang Klockan, to an arrangement of song composed by Jean Sibelius. Salokoski's delicate voice matches Pohjola's approach to the trumpet, coaxing rasps and strains over the instrument's conventional fuller tones. Both artists' insights fuse in their mutual relish of a traditional acoustic approach—none more so than in their encore piece, Bjork's "Anchor Song". Surely the audience witnessed that night the start of an association that will go beyond the bounds of the Swedish speaking and listening world.
---