Earth-Wheel-Sky Band: Rroma Art & Waltz Rromano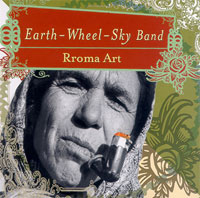 Earth-Wheel-Sky Band
Rroma Art
Radio 021
2001
"Earth - Wheel - Sky" are symbols that in a way represent the life of gypsies. That's also the name of one of the best gypsy ensembles that have appeared in the last few years, elsewhere. Guided by one of the most prominent figures on the Serbian music scene, Olah Vintze, the band set out to make a soundtrack of influences that would range from India to Spain (and Norway). Throughout the ages it were the gypsies that traveled from place to place, from one region to another gathering all kinds of influences along the way as they were trying to integrate themselves into whatever scenery at the time. In a way, what they did was learning the local music and then putting their various influences and twists into it. They were nomadic people who moved from India and the westward towards Spain. In Serbia especially, as well as the rest of the world, when one mentions gypsy bands, they would immediately think of those huge brass ensembles that can be seen either at wedding parties, fairs or festivals.
Earth-Wheel-Sky-Band comes from northern Serbia, from a region called Vojvodina, a place that in a way is at the crossroads and is another mixture of nations with different influences. The band has existed since 1981 and its founder Vintze has been immersed in all kinds of genres and styles (also a member of Boris Kovach's LaDaABa band) and that has informed his approach toward playing this music. Their music certainly has several polarities but what amazes is the simplicity and the way they have effectively fused all of these various influences. The album is full of spirited tempo and fiery instrumental conversations between violins, guitar, double bass, cymbalos. What sets this group of musicians apart from other gypsy groups and musicians are the brilliant arrangements. Vintze uses his musical forces sparingly and the minimalistic arrangements do make a difference as sometimes gypsy musicians do tend to overplay. Sometimes they do get carried away by their own virtuosity. Although it is heavily based on hungarian folk music one can feel flamenco influences, indian music, middle eastern melodies and rhythms. It opens mysteriously with "Rroma Adagio" and at the very start it sets the scenery to come-soulful violin melodies over delicate rhythm section consisting of cymbalo, double bass and percussion as well as brilliant and restrainted guitar solos.

The only place where the south meets the north is a track called "Chochek." The etymology of this word is Turkish and it means a dancer, but commonly throughout the Balkans the word is a synonym for belly dancing and the music that goes with it. This track features maestro Boban Markovic who adds his trumpet magic. "Chochek" is a magnficent track with its slow paced tempo and it features a slowed "well-known" riff typical for the aforementioned brass bands. "Baro Drumo" is an up beat tune with irresistable funky melody. It is the tour de force of the album and in a way it is a show case for their live performances. The track that would follow "Funk" is an irresistably groovy track with an invitation for a dance. Simply beautiful.



class="f-left" > Earth-Wheel-Sky Band
Waltz Rromano
Asphalt Tango Records GmbH
2003

The second CD, Waltz Romano, is truly an "on-the road" record, and this time it carries images of songs and music being played while travelling either on foot, by train or by sea as various sounds regarding the travels of these nomadic people have been added. In between songs one would hear sounds of water or sounds of trains. Although in reality the road taken is never that joyfull and merry, Earth Wheel Sky seem to have fun while doing that. The band plays with vibrant energy and along the way they are picking up all those influences and characteristics from regions starting from India up to Spain. It seems that fun never ends and it goes on and on.
"Azija Rromansa" opens with sounds from a pub and one can hear the sounds of glass and people talking, when a violin slowly makes its way through the crowd and then the band suddenly bursts into a dynamic performance. It features complex rhythms, intricate flamenco guitar soloings and in the background one can hear middle eastern melodies. The same combination and flavors are carried on to the next track "Sa e Rroma, Ando Them" (All the people in the world). "Me Sem Rrom" (Only a Man) is a vibrant tune with a brilliant C&W violin solo as well as fantastic cymbalo crashes. The world of Earth Sky Wheel Band is not as simple as some may think. Some melodies may seem familiar and the combination of that with heavyweight performances offers something special to the listener. "Music Rroman" is a flamenco tinged tune with strenght and sadness typical for flamenco music. It undoubtedly has, what people might say, a duende. "India Rroma" is a funky tune with a sitar playing different funky melodies unlike the traditional stuff we usually assosiate the sitar with.

Even though one can feel so many influences and tinges the band has managed to maintain the integrity of the music from their own region. With the explosion of the popularity of this type of music there was also an increase of misconceptions and sacriledge of their heritage. These days the music stores are flooded with CDs with gypsy music. Although the cover sleeves and the packaging are excellent, the quality of the music inside has proven to be poor. Not everything that shines is gold. In this case both releases have excellent cover sleeves and even better music.

Track Listings:
Rroma Art: 1. Rroma Adagio; 2. Calo Trajo; 3. Chai Shukarie; 4. Chochec /feaut.:Boban Markoviæ/; 5. Dance & Blues; 6. Brshn Perel; 7. Baro Drumo; 8. Funk; 9. Nadia; 10. NS 1999
Waltz Rromano: 1. Azija Rromansa; 2. Sa e Rroma, Ando Them (All the people in the world); 3. Me Sem Rrom; (Only a man); 4. Music Rroman; 5. Dance Rromalen; 6. India Rroma; 7. Rroma Adagio Sempre; 8. Choro Rrom (Poor man); 9. Vranje-Rromans; 10. A# - Rromans
Post a comment