Anthony Braxton/Andrew Cyrille: Duo Palindrome Vol 1 & 2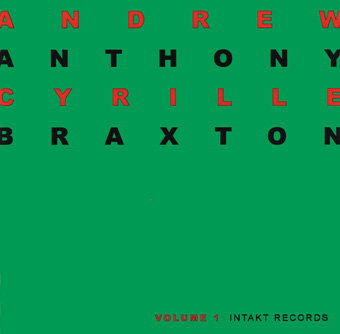 After meeting in Paris in 1969, Anthony Braxton and Andrew Cyrille didn't record together until Hat Art released Braxton's Lennie Tristano project in 1988. While a duo project had been discussed, it wasn't until 2002 that it was realized. Now, spread over two CDs, Intakt releases the results of those sessions. Original compositions, spontaneous improvisations, and a couple of oldies provide the maps for these two fearless explorers. As one expects, they overwhelm any notion of "reeds and drums," ready to play interdimensional or romantic at the drop of a hidden cue.
Volume 1 begins with "Duo Palindrome 2002," Braxton's alto like a hummingbird with Cyrille creating the garden. Cyrille's "The Loop" follows with Braxton ritualistic/ecstatic on soprano as Cyrille uses hand percussion on his drum set to achieve a tribal feel. "Interlacing" allows Braxton a lyrical interlude on soprano, Cyrille keeps sticks to skins, cymbals quiet.
Extending his soprano to the stratosphere, Braxton plays "Celestial Gravity" as a tenuous ribbon blown above Cyrille's understated tappings. Dropping into another clef, Braxton works small phrases from a bass sax with Cyrille's light teasing stick work on "Quickened Spirits." Long tones on clarinet introduces "Effluence," with Cyrille answering with quick mallets on drums.
Braxton's "Composition #310" finds him sliding over clarinet keys creating rapid fingerings. He spirals and flies with Cyrille keeping watch on the ground with bursts of cymbal and drum patter. Braxton unexpectedly returns to the bass sax to bring it to add earthy grumbles. Whispery brushed snare warms up "Ascendancy" for Braxton's energetic tenor. Cyrille stays down low contrasting Braxton's impatient searching. Switching to soprano, Braxton launches into a headlong pace with Cyrille urging him on.
Volume II opens with "Water, water, water," a Cyrille composition that resembles "The Loop," at first. Braxton plays a soprano raw over Cyrille's steady multi time. A sensual, drifting melody from Braxton's alto joins Cyrille's sparse percussion on "Dreams Alive...Concretize." Cyrille holds to a repetitive beat with Braxton breezy in a minor mode.
Cyrille plays snare march with Braxton rooting on bass (contrabass?) sax on the reedman's "Excerpt from the Navigator." Cyrille spreads the beat past the snare, Braxton keeps up on the ungainly reed. Mouth percussion, drums and shuffling reeds characterize "Sound Relations," an interesting sonically inclusive exercise. Braxton's "Composition #311," allows him to move from soprano, to alto, to bass and back with Cyrille's sprightly drum dance falling all around him. Cyrille's "Dr. Licks" has Braxton soulful and fast on alto playing the cheerful piece. Braxton's "A Musical Sense of Life" has him shape shifting through reeds, blowing dense multiphonics with Cyrille measured and spacious.
The veteran improvisers make the most of their delayed confrontation. Braxton and Cyrille share their decades of musical innovation with each other and fortunate listeners.
Track Listing
Volume 1-Duo Palindrome 2002; The Loop; Interlacing; Celestial Gravity; Quicksand Spirits; Effluence; Composition 310; Ascendancy
Volume 2-Water, water, water; Dreams Alive...Concretize; Excerpt from the Navigator; Sound Relations; Composition 311; Dr. Licks; A Musical Sense of Life
Personnel
Anthony Braxton, woodwinds; Andrew Cyrille, percussion.
Album information
Title: Duo Palindrome Vol 1 & 2 | Year Released: 2005 | Record Label: Intakt Records
Post a comment about this album