Dub: Mixed Up and Mixed Down
For those who fail to appreciate the link between the music of Jamaica and the music of Africa, consider this. Something like 95% of the population of the Caribbean island is of African origin, dating back to agricultural slave labor during its colonial period. The deepest Jamaican musical precursors plant roots in nyabinghi rhythms. And finally, reggae is most frequently practiced by members of the Rastafarian faith, who view Africa as a spiritual home to which all her children must return. If you have any more doubts, click somewhere else.
This particular installment focuses on some very seriously mixed up island byproducts, none of which are particularly close to jazz. In the fertile after-echoes of dub, producers have come across some unusual ways of combining material while still retaining the characteristic features of the original Jamaican style.


African Head Charge practices a global fusion, incorporating the rhythms of West Africa. Noiseshaper uses a direct approach to blend funk, electro, and various other styles. Luciano comes straight from the heart with an R&B infusion. And finally, Ethiopia's Emperor Haile Selassie I himself joins Bob Marley on record with a message of peace and unity.


In this collection:
African Head Charge, Shrunken Head (On-U Sound, 2003)
Noiseshaper, The Signal (Different Drummer, 2003)
Luciano, Tell It From The Heart (Minor7 Flat5, 2003)
Haile Selassie I and Bob Marley, The War Album (Rastafari Records, 2000)


African Head Charge
Shrunken Head
On-U Sound
2003


With more than ten records over the last 23 years, African Head Charge has amassed an impressive (albeit uneven) discography. The group has undergone plenty of changes since its 1981 debut, but all seem guided by a common respect for twisting Jamaican and African tradition asunder. The influence of deviant dub producer Adrian Sherwood pervades the series, though it's hard to pin down his contributions precisely. (That's really the point of being a producer, if you ask me.) None of the previous African Head Charge records on On-U sound are still in print, which makes this two-decade compilation particularly meaningful.


The 17 tracks on Shrunken Head never overextend their welcome, always a welcome thing in their world of ever-reverberant textures. "Dinosaur's Lament," from 1997's Environmental Studies, makes no apologies about a detour into pure dub. Rumbling basslines and ever-pulsing drums serve as the foundation for a seductively psychedelic meditation voiced through some sort of harmonized harp-like sound. "Dervish Chant" heads straight into the bazaar, invading minor territory with a cornucopia of overlapping percussion timbres, occasional rough voices chanting in and out. "Cattle Herders Chant" draws from West Africa, the richly interlocking patter of drums running alongside staccato guitar cycles. Organic chants and Afro-pop textures round out the jam. More of the same comes out later on "Stebeni's Theme."


Sometimes these pieces cross over the line into over-the-edge repetition. But the raw earthy energy and clever sophistication of the rest more than make up for these occasional shortcomings. "Pursuit," with its pygmy vocal samples, far-out Prince Far I vocals, Laswellian bass groove, and densely interlocking drums, is alone proof enough that African Head Charge has plugged directly into the source.


As Bonjo I puts it: "No place for bad vibes..." Indeed.


Visit On-U Sound on the web.


Noiseshaper
The Signal
Different Drummer
2003


The ever-colorful Parliament/Funkadelic icon George Clinton once made a revealing statement about rhythm in music. Funk, he says, is all about the one. Hit that first beat right and you're well on your way. But according to Clinton, reggae is a different species: it's all about the three. That delayed hit (as well as its ever-present echoes and reverberations) is a signature that's hard to avoid in Jamaican music. Dub, as a studio extension of reggae, dwells more on the three as anything else, though it also places plenty of emphasis on the afterbeat in general.


Which brings us from the sunny island of Jamaica to Berlin's own Noiseshaper, the transplanted duo of Austrians Axel Hirn and Flo Fleishmann. The modus operandi of these producers is to provide a dub foundation upon which a rotating cast of vocalists can lay down lyrics with a message. Eight of these ten compositions are such memorable collaborations; the other two (without vox) are rather forgettable.


Noiseshaper's singular contribution to dub is a blend with funk and various electronic styles. Rather than drawing directly from the rather square influences of dancehall, the duo prefers more unusual and experimental soundscapes. From the psychedelic groove of the amply titled "We Love Reggae" (Vido Jelashe 1 riding deep and rough-edged on top) to the heady funk of "Signal" (MC Tweed rapping all around bar lines), the Clinton Principle rules. That three comes through loud and clear, along with ample reverberations, in every case. Of course there's no reason the three and the one can't get together for a happy union, or any other combination for that matter.


That's the secret behind these Euro architects of island music. Dub has curiously found a nurturing home in Germany, where it has a huge fan base and the kind of exposure to keep it breathing. Noiseshaper doesn't have much of anything to do with noise, ironically enough, which is just one reason the electro/dub duo can hit a club and get feet moving on the floor. The Signal is proof that experimentation need not interfere at all with a straight-up jam.


Visit Different Drummer on the web.


Luciano
Tell It From The Heart
Minor7 Flat5
2003


There are weird musical combinations, and then there are the downright freaky. Jamaican reggae superstar Luciano falls into the latter category. While his music may not have penetrated all that far into the international market, he's put out over 20 records and in the process acquired a solid reputation for doing his own thing. Tell It From The Heart takes one more step down this road with a bolus of inviting, user-friendly soul jams.


Here's the mix. Take roots reggae and blend it in equal parts with Stevie Wonder, not over-stirring. Of course that's an oversimplification, but it works as well as any to describe this R&B/Motown collision with island music. It's something like rocksteady, if you're familiar with that particular style.


The striking feature of Tell It From The Heart is that the music makes absolutely no compromises on any level. The Rastafarian message comes through loud and clear in the form of spiritually and socially aware lyrics. "Another Moses" provides some of the most dramatic examples of a devotion to the higher power, most insistently its human form in the body of the prophet:


Wicked Babylon is just like wicked Pharoah
Who won't let my people go...
And now the time is at hand
When we shall get our redemption...
Jah has given his word to me and you
And so I know
Jah has given us another Moses
To redeem I and I from captive
Jah has given us another Joshua
To take I across the river...
Of course, when it comes in the form of swaying, honey-sweet vocals that extend held notes far beyond their nominal lifespan, the seriousness of Luciano's lyrics is camouflaged within inviting warmth. The embedded message always been an essential feature of reggae, and Luciano does not stray at all from this tradition.


"Ends of Never" builds upon the four-part harmonies of doo-wop unearthed and celebrated in the Motor City by the likes of Marvin Gaye—and Stevie himself, of course. Extended legato lines, tremulous and constantly embellished, couch an uplifting message.


The slow-paced "Bombs" uses an ultra-minimalist reggae foundation to support paced, drawn-out vocals and an offbeat harmonized chorus. By this point, midway through the record, it's clear what's behind Luciano's particular style. Sure, he throws Motown wholeheartedly into the mix, but that's not the point per se. At its roots, the American Motown sound draws heavily from the African American gospel tradition. The warmth, revelation, and down-to-earth features of this spiritual music make a surprisingly effective partner for a host of identical qualities in reggae (and its corollary, Rastafarianism).


Luciano takes it all home.


Visit Minor7 Flat5 on the web.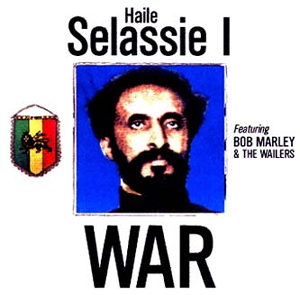 Haile Selassie I with Bob Marley
The War Album
Rastafari Records
2000


When the acknowledged king of reggae gets together with the exalted messiah of Rastafarianism, you better pay attention.


In the hands of Marley and legions of other reggae practitioners, the music is inextricably tangled up with the religion and culture of Rastafarianism. And since that Jamaican belief system is singlularly devoted to Ethiopia's Emperor Haile Selassie I, this holy vibration offers an infinity of connections.


As for the question of whether Selassie is the Almighty, Marley has the following to offer in the 21-second introduction that launches The War Album : "Now the Bible say so, Babylon newspaper say so, and I and I the children say so." And so the proceedings get underway on unequivocal grounds.


Marley originally recorded "War" on his 1976 record Rastaman Vibration with the Wailers, using lyrics taken from a 1963 UN speech by Selassie, founder of the Organization of African Unity. This track serves as the inspiration for The War Album, which goes direct to the source with Selassie's own words dubbed over this song, creating a "virtual duet." The 1968 Marley statement "Selassie is the Chapel" is also interwoven by producer Bruno Blum, a French cartoonist, journalist, and musician (leader of the most questionable group Sexy Frogs).


The subtle instrumentals of this track serve as a nearly invisible vehicle for reverberating messages in Amharic and English. Selassie's speech, a very serious call for African unity, racial equality, and enlightened government, is somehow timed to sail freely, as if it originated as song lyrics. Blum deserves credit for creating one of the most clever and effective statements in the history of the dub era.


The eight tracks that follow hit the "War" idea from several different angles. "Peace" revisits it through a more psychedelic vantage, piling on heaps of reverb, delay, and echo both in the music and the voices. A five minute English translation of the original text surfaces, as well as a full length manifesto itself, pronounced with assurance by Haile Selassie I in Amharic. The rest of the disc is filled out by a French translation and various (less inspired) performances by Buffalo Bill and the Wailers Band.


Hearing this record for the first time was a rare experience of the highest spiritual order. It provides more than ample evidence of the enlightenment of Haile Selassie, Bob Marley, and Bruno Blum, who have applied uncanny understanding to this beautifully and intuitively interwoven fabric of music, love, and compassion.


See these two links for more information on The War Album and Bruno Blum. Also see a recent AAJ book review devoted to Rastafarianism, which features more Rasta links.





Tracks and Personnel
Shrunken Head
Tracks: 1. Pursuit; 2. You Learn; 3. Run Come See; 4. Heading to Glory; 5. No, Don't Follow Fashion; 6. Who Are You?; 7. Language and Mentality; 8. Far Away Chant; 9. Dinosaur's Lament; 10. Dervish Chant; 11. Throw It Away; 12. Cattle Herders Chant; 13. Belinda; 14. Stebeni's Theme; 15. Bazaar; 16. I Want Water; 17. Free Chant


Personnel: Perry Melius, Style Scott, Charley "Eskimo" Fox, Prisoner: drums; Bonjo I a Binghi Noah, Sunny Akpan, Andy Moses: percussion; Zap, Skip McDonald, Kishi Yamamoto, Dr. Pablo, David Harrow: keyboards; Wayne Numes, Crocodile, Junior Moses, Lizard: bass; Skip McDonald, Martin Fredrix, Remee: guitar; Bonjo I, King Cry Cry (8), Stebeni (14), Skip McDonald (backing vocals), Albert Einstein (7), the Miracle Voice Choir: vocals.
The Signal
Tracks: 1. All A Dem A Do (featuring Juggla); 2. Jah Dub (featuring Kwasi Asanti); 3. We Love Reggae (featuring Vido Jelashe 1); 4. Wise Up (featuring Mc Tweed); 5. Signal (featuring Spikey Tee); 6. Sunstarson; 7. Control (featuring Jackie Dean); 8. Good Enough Part 1 (featuring Farda P); 9. Good Enough Part 2; 10. Dunk.


Personnel: Axel Hirn and Flo Fleishmann, plus special guest vocalists as listed.
Tell It from the Heart
Tracks: 1. Intro-Prayer; 2. Ends Of Never; 3. Babylon Go Down; 4. Another Moses; 5. Got To Strive; 6. Only Jah Knows; 7. Bombs; 8. Freedom Train; 9. I Grow Up; 10. Ethiopia; 11. You Can Have The World; 12. Peace; 13. Tell It From The Heart.


Personnel: Luciano and other unnamed musicians.
The War Album
Tracks: 1. Bob Marley introduces His Imperial Majesty Emperor Haile Selassie I 0:21; 2. Haile Selassie I featuring Bob Marley & the Wailers: War/Selassie Is The Chapel (virtual duet remix version) 6:25; 3. Buffalo Bill: War (Jamaican version-Buffalo Bill sings 'War') 4:13; 4. Wailers Band: Peace (full length dub version) 5:49; 5. Bruno Blum: War (English version) 5:45; 6. Haile Selassie I: War (full length foundation Amharic version) 10:35; 7. Buffalo Bill: Warmongers (Buffalo Bill sings 'Warmongers') 4:03; 8. Bruno Blum: Guerre (French version) 5:19; 9. Wailers Band featuring Bob Marley & the Wailers: War/Selassie In Dub 7:10; 10. Wailers Band: War Dub 3:22.


Personnel: Haile Selassie I: lead vocals. Bob Marley: vocals; Peter Tosh & Rita Marley: backing vocals on 2 & 9; Earl "Wire" Lindo: organ; Aston "Family Man" Barrett: bass, electric piano; Bruno Blum: lead & rhythm guitar, lead & backing vocals, dub remix; Michael "Mikey Boo" Richards: drums; Tatiana Prus: backing vocals; Norbert "Nono" Nobour: afuche, tambourine, bongo, bell. Produced by Bruno Blum, mix by Thierry Bertomeu, assisted by Sofiane Gnaba.
---