Various Artists: Document Chicago - New Jazz and Improvisation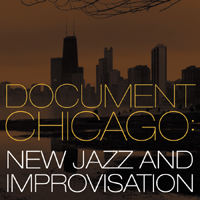 Chicago has always had a sound that differentiated it from other large centres including New York and Los Angeles; decidedly urban, but with a certain avant edge that New York has only fully explored in recent years. Chicago has been mining the depths of the avant-garde since the '60s, when the Association for the Advancement of Creative Musicians (AACM) arose and brought artists – including founder Muhal Richard Abrams, Henry Threadgill and The Art Ensemble of Chicago – to the forefront of modern improvised music. Now 482 Music has released
Document Chicago – New Jazz and Improvisation,
with the purpose of exposing a new generation of improvisers. Like any compilation the results are mixed, but one thing is clear: Chicago has a vibrant underground music scene that is second to none.
A few names keep popping up among the thirteen groups represented on the disc: drummers David Pavkovic and Tim Daisy, vibraphonist Jason Adasiewicz, bassist Jason Ajemian, multi-reed player Jonathan Doyle, and saxophonist Aram Shelton; but there are nearly thirty different musicians involved in the thirteen tracks on this compilation. Groupings range from more conventional sax-bass-drums to guitar-drums duos to a quartet featuring vibraphone, clarinet, cello and drums. From the free jazz of Jason Roebke's Rapid Croche to the rapid-fire unison lines of the Treehouse Project, the emphasis is on improvisation, but within a compositional context that veers heavily away from the traditional head-solo-head format.
Electronics also play an important role. Whether it be Colin Bunn's jagged electric guitar on the Treehouse Project, Aram Shelton's use of loops with Grey Ghost to create an ambient backdrop for improvisation, or bassist Griffin Rodriguez's more subtle use of electronics with the Exciting Trio, this collection represents a group of daring young musicians who are not afraid to look back while at the same time keeping an eye firmly on the future.
This is not an easy collection to assimilate; every track presents a different challenge to the listener. Some tracks, including those by the Phil Mosberg/Eric Roth Duo and Jason Roebke's Rapid Croche, start with motifs that lull one into a false sense of melodic security before breaking down into altogether darker, more brooding improvisations.
It is difficult to pick highlights from the collection; every listener will have a personal favourite. But one thing is clear: Document Chicago – New Jazz and Improvisation is a testimonial that improvised music is alive and well in Chicago. The emphasis on composition as more than a starting point for improvisation makes this a refreshing and essential listen for anyone interested in a sound that could only come from one city.
For more information, visit www.482music.com

Track Listing: Clean (The Pavkovic Band); Last Night (Dragons 1976); Fleet (Triage); Remebering Tokyo, The Last Alaskan (The Exciting Trio); Through an Open Window (Jason Adasiewicz/Jon Doyle); UPD (Phil Mosberg/Eric Roth Duo); Hannibul (Stick and Stones); It's Enough (Jason Roebke's Rapid Croche); Trying Not to Stand Still (Design Flaw); The Cocktail Party Effect (The Treehouse Project); Black Shoe (Greyghost); Incidentally (Bauder/Parker/Ajemian); California Fingers (Bauder/Ramsdell/Bryerton)
Personnel: Jason Adasiewicz (vibraphone, drums, bass, glockenspiel, organ), Diana Parmeter (cello), David Pavkovic (drums), Aram Shelton (alto saxophone, loops), Jason Ajemian (bass), Tim Daisy (drums), David Rempis (alto saxophone), Griffin Rodriguez (bass, electronics), Matt Schneider (guitar), Jonathan Doyle (baritone and tenor saxophones, clarinet, b-flat clarinet, melodica), Phil Mossberg (guitar), Eric Roth (drums), Matana Roberts (alto saxophone), Josh Abrams (bass), Chad Taylor (drums), Jason Roebke (double-bass), Frank Rosaly (drums), Brian Dibblee (double-bass), Colin Bunn (guitar), Ken Champion (pedal steel), Nate Walcott (trumpet), Michael Reed (drums), Matt Thompson (bass), Jonathan Crawford (drums, Kawai SX-240), Matt Bauder (tenor saxophone), Jeff Parker (guitar), Alec Ramsdall (piano), Jerome Breyerton (percussion)
---