Gap Mangione: Diana in the Autumn Wind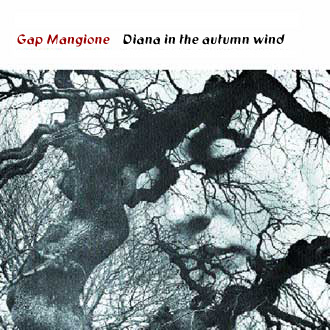 Gap and Chuck Mangione roared out of Rochester, NY in 1960 with their exciting Riverside Records debut,
The Jazz Brothers,
and returned to the studio eight years later to produce
Diana in the Autumn Wind
under pianist Gap's name, showcasing his trio on four tracks and a big band conducted by younger brother Chuck on the other eight.
The idea, Gap writes in his updated liner notes, was "to create an album of the music we were playing five nights a week at The Other Side of the Tracks, a supper club in Rochester, and to present some new compositions by my brother . . ." Chuck, of course, went on to write the music for a number of best-selling albums, starting with Friends & Love in 1970 and including Land of Make Believe, Chase the Clouds Away and Feels So Good. His compositions here (five including "The XIth Commandment," co-written with Gap) provide an indication of the path he was to follow, transposing handsome melodic ideas into what some observers labeled "smooth" or at least "chamber" jazz. Whatever one called it, there was no doubting its wide popularity.
One clear advantage Chuck had on his own albums was far better sound quality; Diana suffers greatly from a cramped and boggy ambiance that makes it seem even older than its thirty-five years. It could be stereo but definitely sounds monaural. The trio selections, while marginally better, are dated in their own way by Gap's choice of electric piano, except on Sonny Rollins' spirited "St. Thomas" (not to mention the choice of material, which includes the Beatles' "Yesterday" and a medley from Dustin Hoffman's breakthrough '60s film, The Graduate ).
The sidemen are first-class, and it's too bad there aren't any solos from the likes of Marvin Stamm, Wayne Andre, Joe Farrell, Frank Wess or Mike Manieri. Jerome Richardson is heard only briefly, on "Diana," as is trumpeter Clark Terry on "Long Hair Soulful." Gap takes the other solos, but hey, it's his album, and the roughly forty-two minute playing time doesn't leave much space for other voices, several of whom (Farrell, Richardson, Dhui Mandingo, Jimmy Buffington, Sam Brown) are no longer with us. Mention should be made of the splendid rhythm section, adroitly anchored by two up-and-coming young players, bassist Tony Levin and drummer Steve Gadd.
While Diana has her moments, the passage of time has left its indelible mark, effacing much of the charm and beauty of her long-ago youth. She remains an amiable companion, but not a temptress who's likely to quicken one's pulse.
Contact: Josh Music, P.O. Box 12729, Rochester, NY 14612; www.gapmangione.com .

Track Listing: Boys with Toys; Diana in the Autumn Wind; Long Hair Soulful; Yesterday; The XIth Commandment; St. Thomas; You
Personnel: Gap Mangione, piano, electric piano, organ; Tony Levin, electric bass; Steve Gadd, Joe LaBarbera (6), drums; Dhui Mandingo (6), conga drums. Tracks 1-3, 5, 7, 8, 10, 11 -- Chuck Mangione, conductor; Snooky Young, Marvin Stamm, Clark Terry, trumpet, flugelhorn; Wayne Andre, Tony Studd, trombone; Paul Faulise, bass trombone; Jimmy Buffington, Earl Chapin, French horn; Jerome Richardson, soprano, alto, baritone sax, flute; Joe Farrell, Frank Wess, tenor sax, flute; Ned Corman, baritone sax, flute, bass clarinet; Ray Beckenstein, flute, piccolo; Sam Brown, guitar; Mike Manieri, vibraphone.
---