Jack Gold Quartet: Daylight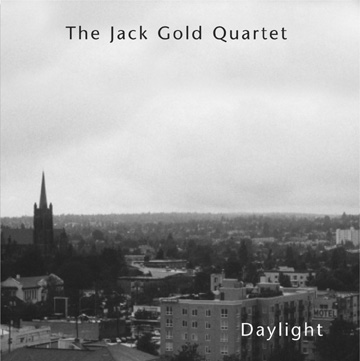 Daylight
, a set of "instantly composed" tunes, opens with a seaching blend, trumpet, sax, bass and drums poking around for common ground, arguing and jostling each other for position until Michael Monhart's tenor saxophone asserts itself, sounding raw and wounded. Then Jim Knodle's trumpet takes a turn, straight at you, with a bit a truculence in his tone. The song is "So-No," and an undercurrent of ready-to-explode intensity pervades, even in the lower tempos.
The "spontaneous composition," "free jazz" side of sound proves itself an aquired taste here, with lots of contentious interplay that includes generous and welcome doses of "small percussion," clatters and rattles that add interesting textures to the horns/bass/drums approach. The impression here is of a spirited and high energy CIMP session group influenced by the Art Ensemble of Chicago.
"Spiritual" lies back a bit, in contrast to the opener, coming in with that "small percussion" and Michael Bisio's loping bass, with Michael Monhart switching—a few minutes in—from tenor to soprano saxophone, leaning Eastward with long, sweet sinuous lines.
Jack Gold holds down the drummer's seat, and this is one of those you might guess, based on a blind listen, is a drummer-led effort. His percussion mode is often aggressive in a way that keeps his band sounding fiery and on edge, by turns pushing things toward chaos then reigning the sound back in structure's direction. He sounds like roiling thunderhead clouds on "Shelter." And having said that, Gold goes mainly textural on the disc's closer, "Homeless," behind a relatively straight-ahead horn duel.

Not for those uninitiated in the joys of instantly composed sounds, but a bracing and invigorating listen to those who've been there.
Track Listing
So-No, Spiritual, Out Alone, Shelter, Nightfall, Homeless
Personnel
Michael Monhart--soprano and tenor saxophones; Jim Knodle--trumpet, small percussion; Michael Bisio-accoustic bass; Jack Gold--drums, small percussion
Album information
Title: Daylight | Year Released: 2004 | Record Label: Sol Disk
Post a comment about this album