Dave Liebman Times Two
Dave Liebman, a chameleonic multireedist, is featured on two diverse new recordings, one as a leader and the other as a co-leader.
Dave Liebman Group
In a Mellow Tone
ZOHO Records
2004
As leader of the Dave Liebman Group, the recent release of In A Mellow Tone features Liebman regulars Vic Juris (guitar), Tony Marino (bass) and Jamey Haddad (drums and percussion). At the top, on the title track, Liebman commits the heretical and refreshing act of reconstructing a canonical text. After a brief electric guitar intro by Juris, Liebman steps in on tenor and from the fourth bar his shadowy arrangement changes the song's mood altogether, his articulate solo leaving adequate space for Haddad, Juris and Marino to set the stage underneath and around him. "Child At Play," a Liebman original, finds him on soprano for the mid-tempo bouncy tune, Haddad racing along on brushes as the leader laughs and whinnies on soprano while Juris' echo chamber-ish single note soloing is fiercely supported by the percussionist. The guitarist's "Chance Of Rain" is a spare composition whose generous spacing is its most valuable asset, the composer's guitar synthesizer complementing Liebman's moody tenor and Marino's excellent plucked solo; Haddad meanwhile provides Asian accents on cymbals.

The band flips the meteorological and rhythmic switches with "The Sun King," Liebman doubling on flute and soprano weaving raga-like notes from the reed's upper register. Haddad on congas supplies supple rhythm while Juris' dynamic acoustic guitar is flamenco-driven. "Chant" is a straight-ahead burner with the leader flying on tenor. Marino has another slick pizzicato solo followed by more synth guitar stylings; nowhere on the disc is Juris' use of the synth guitar more appropriate than on "Romulan Ale", a fusion-laced nod to Star Trek. The opening notes seem to pay homage to "Birdland" while Liebman just blows away over the rhythm section's repetition of the head.

The band's interpretation of Lennie Tristano's "Wow" is a playful little strut, light and bouncy, with challenging rhythm and tempo changes, Liebman on soprano and Haddad scatting and scampering on brushes. The impressionistic and introspective "Change Up" is highlighted by a wonderful classically-influenced soprano/arco dialogue between Liebman and Marino. The closer, "Vamp To Life," is a perfect ending to a wonderfully creative and outstanding work.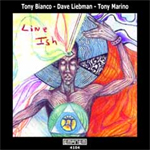 Bianco/Liebman/Marino
Line Ish
Emanem
2004
Liebman echoes his Lookout Farm days on Line Ish , joining drummer Tony Bianco and again with Marino (on double bass and percussion) on a dazzling free jazz suite. In addition to playing soprano, tenor, and wooden flute, he is also heard at the piano. The disc is a suite with various interludes set within. The opening cut, "Line Ish, Part One," opens with a moody duet between Liebman and Marino. Blowing with the kind of passion Coltrane used to summon, while Bianco thrashes beneath the moodiness and Marino adds dark arco backdrop, Liebman blows fiercely on the straight free jazz burnout. Marino's arco solo is brooding and dramatic; he spirals up to the higher notes, then falls like Icarus into the waiting arms of Liebman's high-pitched wail marking the transition into the next movement.

The interlocking movements and interludes are solo and group efforts. Marino's Middle Eastern theme-spiced interlude is a fierce plucked effort, rich in melody and dexterity. His solo segues directly into the next collective movement announced by Bianco's cymbal flourishes (his drumming is a guiding hand, firm but never ostentatious); Liebman, heard at the piano, mines the instrument's depths by strumming the strings from the inside as the space eventually narrows while the tempo increases and the interplay races toward chaos. Liebman's solo interlude features him hitting astonishingly bird-like high pitches on tenor, screaming yet whispering. Part three is a furious cauldron of soprano, plucked bass and drums (Bianco laying down Elvin Jones-like polyrhythms). The following group interlude features Liebman being overdubbed on flute and sax with a fierce drum solo by Bianco leading into the final movement of the suite. Liebman falls in on tenor, followed by Marino on plucked bass, and then all come together for the final whirlwind. Line Ish is a tour de force, expertly conceived and brilliantly performed, an outstanding display of the spirit and empathy that exists between the players.

In a Mellow Tone

Tracks: 1 In a Mellow Tone (4:34); 2 Child at Play (6:09); 3 Chance of Rain (6:40); 4 The Sun King (3:52); 5 Chant (6:49); 6 My Heart Will Go On (3:13); 7 Romulan Ale (7:19); 8 Wow (2:46); 9 Change Up (3:54); 10 Vamp to Life (7:49).

Personnel: Dave Liebman (soprano and tenor saxophones, wooden flute), Vic Juris (acoustic and electric guitar, guitar synthesizer), Tony Marino (acoustic and stik bass), Jamey Haddad (drums, percussion).
Line Ish

Tracks: 1 Line Ish: Part One (14:33); 2 Bass Interlude (4:02); 3 Line Ish: Part Two (13:33); 4 Sax Interlude (2:13); 5 Line Ish: Part Three (8:42); 6 Group Interlude (4:45); 7 Cymbal Interlude (1:48); 8 Line Ish: Part Four (11:13).

Personnel: Tony Bianco (drum set, chimes, bells), Dave Liebman (soprano and tenor saxophones, wooden flute, piano, chimes, bells), Tony Marino (double-bass, chimes, bells).
---
CD/LP/Track Review
Jazz Raconteurs
Interviews
CD/LP/Track Review
Live Reviews
Read more articles