Helga Plankensteiner-Walter Civettini Quintet: Connections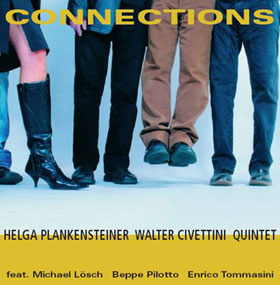 Good chemistry, excellent musicianship. That's all a jazz group needs, right?
Well, maybe not. The Italy-based Helga Plankensteiner-Walter Civettini Quintet—composed of Plankensteiner on alto and baritone sax, Civettini on trumpet and flugelhorn, Michael Lösch on piano and Hammond, Beppe Pilotto on bass, and Enrico Tommasini on drums—has excellent chemistry. The rhythm section's got a seamless cohesion and the co-leaders sound like born partners, each complementing the other's ideas with their own. Plankensteiner's got a sweet tone on alto (her principal horn) that is utterly consistent at any register and Civettini can play as evenly (especially on flugelhorn) or as bluesily as he pleases. But their recorded debut,
Connections
, a collection of originals (mostly by Plankensteiner), makes a strong case for chemistry and musicianship not being quite enough.
Unfortunately, the album's worst number comes first. "JJJ" has a poppy, cloying theme that gives the listener the worst possible impression of this band. It's not smooth jazz, not the kind on the radio, anyway: the rhythm section
is
playing jazz music, albeit an overly restrained sort that is done no favors by the wet, slick studio sound. (Tommasini's ride cymbal's plenty audible, but he might as well not even be playing his kick drum here.) Fortunately, this number is inferior to everything on the album that follows it. It does, however, establish a formula for the entire CD of the two leaders on harmonized heads—with some Horace Silvery piano from Lösch—over an unthreatening ride cymbal/bass groove.
It's not always that bad, though, and taken on its own terms, the music can be enjoyable. The title track and "False Alarm" are both up-tempo numbers that establish the group's style as a sort of watered-down Jazz Messengers. Both tunes swing, if not violently, and Civettini's Lee-Morgan-styled solo on the former rises above its setting. Plankensteiner gets some uncharacteristically rough tones from her baritone on Pilotto's composition "Heidi Traini," which also has some great, growling muted trumpet from Civettini that's like running into Bubber Miley in a fern bar—you want to run up and buy him a drink.
The album frustrates (and rewards) by getting better the farther you go. "Beppechan" is an interesting blues with Lösch on Hammond organ where traditional musical roles are reversed: Pilotto and Tommasini make the music shift and change over Plankensteiner and Civettini's static, unchanging harmony, much like the mid-1960s Miles Davis Quintet playing "Nefertiti." There are many such moments where real jazz occurs, but the group's intentions seem conflicted: the playing seems to push towards further improvisation but the three-to-four minute song durations and goopy-bright production push back in the direction of pop. It's not that either direction is exactly wrong—you just want the band to make up its mind.


Connections , then, is forty-seven minutes of aural proof that good band chemistry and a high level of musicianship are not enough to make great music—no matter what the genre. What this group needs is a focused set of intentions; they've certainly got all the other elements taken care of.
Track Listing: 1. JJJ 2. False Alarm 3. Externity 4. Tabatedo 5. Magic Mars 6. Forgotten 7. Connections 8. Beppechan 9. Heini Traini 10. Michel's Bossa 11. Benno's Tanten
Personnel: Helga Plankensteiner: alto sax, baritone sax; Walter Civettini: trumpet, flugelhorn; Michael L
Title: Connections | Year Released: 2005 | Record Label: Azzura Music