Scott Fields Ensemble: Christangelfox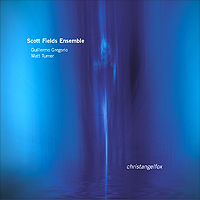 Three musicians gather to make music. Each plays an instrument and percussion that comes in a set of four. Their percussion comprises scrap metal, stone, and wood, all of which float on foam slabs. They begin and then go on for the next hour playing the composition of Scott Fields.
The music on Christangelfox is influenced by Asian cultures, but as Fields notes in the liner notes, that intention is not formal. But it does give a pith and air to the process, whether it be in the loop and swell of the cello from Matt Turner or the cry and plea that emanates from the clarinet of Guillermo Gregorio. And Fields lets his guitar lilt on a classical progression or lets the notes thrill to a flamenco rhythm to lend a different dimension.


There is plenty of interaction and conversation. The devolution takes some nice turns and twists, even if much of it is essayed in an equable atmosphere. But it is in this environ that they thrive and give vent to their imaginations. There are moments, though, when they ruffle the calm, and while it is just a passing thought, it does bring in a likeable ruffle. One of them comes around the 26th minute, when the metal and the wood percussion gets into an animated discussion while Gregorio curls, twists and blows breathy notes. In tandem they create one of the more breathtaking moments on the record.


Despite its length, and given that this is one continuous performance, it holds interest.
Track Listing
Christangelfox
Personnel
Scott Fields--nylon-string guitar, percussion; Guillermo Gregorio--clarinet, percussion; Matt Turner--cello, percussion
Album information
Title: Christangelfox | Year Released: 2004 | Record Label: 482 Music
Post a comment about this album