Three-Fifths Compromise: Cheaper Than Therapy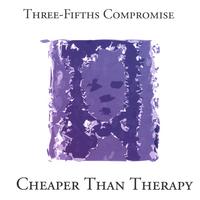 You've got to love a veteran quintet celebrating its ability to finally play clubs because its youngest members have reached legal age. That's also a sign that Three-Fifths Compromise is looking toward the future, and perhaps it's reasonable if audiences hear the group in that context. Indeed, their debut album,
Cheaper Than Therapy
, is strong proof that while musical quality is an absolute, appreciation is relative.


If this was Spyro Gyra's latest album, it might earn a lament as the latest wanderings on a musical journey whose progress ended long ago. With Three-Fifths Compromise, a group of Portland, Oregon musicians who began playing together as high school students in 2000, it's an encouraging statement about where the journey is beginning.


Cheaper Than Therapy is lively contemporary jazz with few gimmicks and individual performances in the just above-average realm. It's assembled from a series of live 2003 recordings, but there's little live presence, with sound quality and arrangements more indicative of a quality studio session.


Tenor saxophonist Chris Hardin is the dominant voice, and his tone and stylings invite immediate comparisons to Jay Beckerstein. Most of Hardin's playing is clean and conservative, but at times it's energetic enough to suggest "next-gen."? Likewise, guitarist George Mandis often bears more than a passing resemblance to Pat Metheny, more positive than negative for now as the younger player develops comforting ideas with authority and a strong grasp of fitting tones to the situation at hand.


The compositions feature hooks catchy on a surface level, but without a lot of diversity or uniqueness. The opening "Big Trouble In Little China"? is a purely straightforward contemporary rock instrumental on a bit of a sugar rush. "Moviemiento En Azul"? is a near-perfect Spyro Gyra/Metheny splice from the late '70s, not a terrible thing since that was a highlight period for both.


The more youthful rock presence comes out on "Measuring The Restless Skies,"? especially guitarist George Mandis' rocking in a somewhat harder universe than his bandmates, a bit reminiscent of Frank Gambale's tour with Chick Corea's Elektric Band. Drummer Drew Shoals shows off speed and technique on the rock fusion of "Mohammed S,"? but with little of the metric exploration coming from some of today's best modern percussionists.


All this contributes to the oft-repeated concept of "promise,"? but the two closing compositions suggest more than another middle-of-the-road contemporary band is at work. The dark and brooding "The Hunter and the Hunted"? shifts and evolves throughout, but always builds toward an intense conclusion. "Cheaper than Therapy"? is a frenetic, free-flowing showpiece of individual solos that stands alone as proof that contemporary jazz and musical artistry can coexist despite the best efforts of money-minded radio and label executives to prove otherwise.


Skip the "youth"? qualifiers and Cheaper Than Therapy still makes for a good listen, proof that the members of Three-Fifths Compromise have used their initial years together wisely. Listeners wondering if this journey is worth following can get an extensive preview with hours of free music—including two complete live performances—at their web site.
Track Listing
Big Trouble In Little China; Moviemiento En Azul; Measuring The Restless Skies; Spanish; Mohammed S.; Journey 2 Infinity By 2s; The Hunter And The Hunted; Cheaper Than Therapy
Personnel
Chris Hardin, sax; Aaron Landau, bass; George Mandis, guitar; Harrold Ray Roberts, keyboards; Drew Shoals, drums
Album information
Title: Cheaper Than Therapy | Year Released: 2005 | Record Label: Unknown label
Post a comment about this album