Jane Ira Bloom: Chasing Paint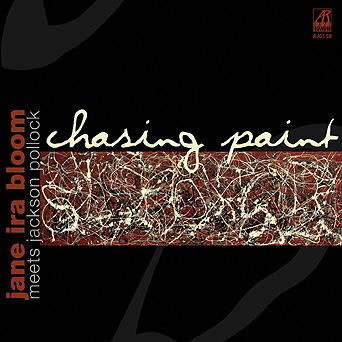 Chasing Paint
opens with dreamy piano chords, over which Jane Ira Bloom applies gentle strokes of her buttery soprano tone, presumably an homage to one of Jackson Pollock's more subtle drip paintings. Pollock, a jazz lover, famously listened to the stuff while working, though he liked the old style variety as opposed to the freely improvised music that would later become associated with his paintings.
Bloom has a lighter touch than one would at first associate with the bold hand of Pollock, but not all of the great painter's canvasses were bombastic. Bloom gets it right, not mistaking the drip paintings for pure exercises in free improvisation. Though Pollock allowed a wide degree of accident, his work was also tightly controlled and thoroughly conceived. Thus, Chasing Paint is composed with an appropriate mixture of planning and masterly improvisation.
Pollock hit on an idea and, this established, only needed to perfect his technique and settle into steady production to realize a large number of these great products of modern art. With Fred Hersch on piano, the superb Mark Dresser on bass, Bobby Previte on drums, a nice book of tunes and the right idea, Bloom only needed the studio time and a decent engineer to turn out a first rate recording, which is just what Chasing Paint is.
Chasing Paint doesn't clamor or crash much. Previte sounds slightly restrained, and Dresser plays it straighter than usual on several tunes, but this is just as the tunes require. Hersch's piano work is solid, though as always a little too perfect for my taste. Still, the pieces catch fire at times, especially late in the game, and track seven, "Alchemy," breaks free into more unfettered territory. The music on Chasing Paint is sensitive and subtly layered, sometimes contemplative, sometimes brightly active—just like an exhibit of Jackson Pollock's art.
Visit Arabesque Recordings on the web.
Track Listing
1. Unexpected Light 2. Chasing Paint 3. The Sweetest Sounds 4. On Seeing JP 5. Many Wonders 6. Jackson Pollock 7. Alchemy 8. Reflections of the Big Dipper 9. White Light
Personnel
Jane Ira Bloom: soprano saxophone, live electronics; Fred Hersh: piano; Mark Dresser: bass; Bobby Previte: drums.
Album information
Title: Chasing Paint | Year Released: 2004 | Record Label: Arabesque Jazz
Post a comment about this album