Bunch of New Blues
It is time for the Vault to clear off its desk of some of the fine blues releases (both new and reissues) we have received.
Lightning Hopkins
Collector's Classics: Lightnin's Boogie
Just a Memory
2004
Culminated from a live set at Montreal's The Rising Sun Celebrity Jazz Club, this 1977 set works through much of Hopkins classic repertoire and with a capable backing band. The set opens with a straight-ahead blues "Trouble in Mind." This song showcases the elements of Hopkins playing and performance that made him the legend he was. From there he performs the up tempo "Mercy," The Muddy Waters penned "Goin' to Louisiana," the delightful instrumental "Lightnin's Boogie" and the BB King classic "Rock Me Baby." While not a must have release, it serves as a nice supplement to anyone who has an interest in Hopkins, top shelf blues guitar work and / or just classic straight ahead blues.


John Lee Hooker
Collector's Classics: Black Night Is Falling
Just a Memory
2004
This recording too comes from a live performance at Montreal's The rising Sun Celebrity Jazz Club. Recorded in 1975, this six-track release contains classic Hooker tunes as "Boom Boom," "One Bourbon, One Scotch, One Beer"' and the rarely performed, but enticing title track "Black Night is Falling." This recording feels more spirited than the Hopkins one, but just like the Hopkins record, it contains a legendary blues artist in their natural element. A natural fit on any Hooker or blues fans CD shelf.


Jon Cleary
Pin Your Spin
Basin Street Records
2004
One of the best keyboardists to come out of New Orleans in the last twenty years is Jon Cleary. On this his fourth album Cleary's performance displays his ability to showcase both his keyboard prowess and virtuosity with his ability to write well crafted songs. To help in his mission, Cleary employs a super funky ensemble dubbed The Absolute Monster Gentlemen. This marriage is best reflected on the recordings of "Agent 00 Funk" and "Doin' Bad Feelin' Good."


Paul Rishell and Annie Raines
Goin' Home
Tone-Cool / Artemis
2004
The super acoustic folk duo, Rishell and Raines, have delighted the fans of authentic blues and roots music for several years. On their new release, they attempt to stretch out from that mold and augment their sound with a folksier feel. While, they hit the mark more than they miss it, they are such talented purists that it is preferable for them to consider a more stripped down blues approach. The best example of true Rishell and Raines is on the track "You've Got it Made."


Big Joe Duskin
Big Joe Jumps Again!
Yellow Dog Records
2004
One of blues under appreciated artists has released a fine record of traditional piano / jump blues. Duskin's sound takes the listener back to the great days of 1950's recordings when rock, blues and jazz were getting a fresh and exciting start and Duskin successfully executes that feel without a single misstep. This sixteen track record falls into the classification of a 'drop the needle record,' which means that no matter where you start listening, you are going to get a gem. A serious contender for the Vault's "Great Blues Record That You Might Have Missed" award for 2004.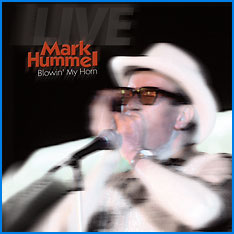 Mark Hummel
Blowin' My Horn
Electro-Fi Records
2004
The Vault has to be honest, we are not big fans of recordings where a harmonica is the featured instrument on each track and also of most live recordings. Most players tend to over-blow and do more runs than thoughtful playing like a horn player would (think Rod Piazza). Hummel's approach to his playing is more thoughtful to the song and thus a better harmonica recording than most. Blowin My Horn is culminated from a two live performances. While there are plenty of fine moments where Hummel's chops and skills are displayed, the album becomes tedious after about the sixth track. Also, the fact that almost all the tunes are extended jams and over six minutes in length, makes the overall feel of this record a bit repetitive. Hummel is best showcased when the song is briefer and more constructed like on the Eddie Bo penned "I'm Wise" and "Before the Beginning." This album has a lot of nice ideas, but could have been executed better.


Jody Williams
You Left Me in the Dark
Evidence Records
2004
William's newest bow is a fine amalgam of classic blues structure with tasty guitar leads. Williams wrote all the material on his record and truly hits his mark on "You Left Me in the Dark," "She's got a Spell on Me" and "Hideout." Not a landmark record but one that deserves your hitting the repeat button.
Post a comment