Brooklyn Jazz Underground: A Trio of Hits
Modern jazz has a problem. And
Brooklyn Jazz Underground Records
' recent slate of releases illustrates the growing dilemma: a surfeit of excellence.
Across the spectrum, artists are innovating at such a high level and plumbing the depths of musical expression with such regularity that it's hard to keep pace (or avoid hyperbole). Jazz's aperture is wide open and BJUR's cultivation of creative music's cutting edge underscores that fact. The label's efforts also remind us that periodically throughout history certain geographic locations become nuclei of artistic experimentation, dialogue, and cross-pollination. Contemporary Brooklyn's creative music scene exemplifies that phenomenon and BJUR's work to document its development stands to have historic significance. Building on BJUR's already-impressive track record, the following trio of releases illustrates this diversity on the rise.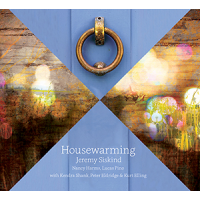 Jeremy Siskind
Housewarming
Brooklyn Jazz Underground Records
2015
Poetic lyrics and redolent orchestration combine on
Housewarming
to present an unusual paean to normalcy that turns on its head the typical "urban angst" focus of popular music. Siskind's atypical trio consists solely of piano, voice, and woodwinds, providing a distinctive instrumentation that distills the content of the trio's carefully chosen songs. Instead of the music serving as a platform for the vocals, or the vocals as an excuse for instrumental flights, the two are integrated in order to craft subtlety articulated portraits of time and space, much like the poetry Siskind references as his inspirations. While each of the album's 13 selections stand independently, they also operate somewhat like thematically linked tone poems, exploring from many angles the album's familial or home-centric themes. Particularly evocative are the cleverly constructed title-track; the impressionistic cover of the Inkspots "Whispering Grass," on which Harms's soft grained vocals deftly render the symbolically potent lyrics; and the longingly delivered meditation "Everything You Need," which poignantly magnifies that distinctly American tension between roots and migration.
Alex Norris
Extension Deadline
Brooklyn Jazz Underground Records
2015
Extension Deadline
resonates with the rhythmic fluidity, textures, and rapid fire inventiveness that are the hallmark of contemporary jazz. Captured here is the type of music that one would hope to stumble upon in a club on a random night when driven out by a spur of the moment desire to hear (and see) quintessential jazz. Norris's trumpet lines, supported by Colligan's deft organ, Thomas's sonorous tenor, and Royston's buoyant percussion, delightfully twist, tangle, and tear through the various schools of jazz trumpet playing to energizing effect. The tautly delivered musical conversation covers a lot of territory, moving from the heated "Extension Deadline" to the Mile Davis-circa-1960s inflected "Night Watchman" and 'What Happened Here?," to the tenderly rendered "Little B's Poem," which showcases Norris's comfort with a gentler tone. Spirited, adroit, and fun, the album presents with a strong, organic feel one of modern jazz's central currents—the continued exploration of jazz's group improvisatory tradition and the melding of its past elements into a contemporary version, yet a wholly consistent form.
Marike van Dijk
The Stenography Project
Brooklyn Jazz Underground Records
2015
Variegated in both form and feel, Dutch-born, now Brooklyn-based composer and saxophonist Marike Van Dijk's
The Stenography Project
exemplifies the alchemical nature of the BJUR project. Featuring this 12-piece band with string quartet, the album presents eight diverse compositions that cogently thread together a wide range of influences, including multiple streams of jazz, traditional classical and avant-garde, Latin, folk, and more. Each ambitious blend unfolds with an almost narrative structure, sketching characters and stories, their elusive outlines all the more intriguing because of their implied nature. Equally impressive is the shift between pastoral color and urban angularity. However, for all the deliberative structure, Dijk provides space for her band members to deploy their individual voices. As is often the case, Dijk's methods can be perhaps most easily observed when applied to a known quantity, in this case her reworking of the Beattle's "She's Leaving Home." Here she encases the original in a minimalist avant-garde orchestration and glacial jazz beat. The result is a sinuous example of experimental reframing grounded in the jazz tradition of covering pop tunes, but approached from a very oblique angle. Dijk and her compatriots are testing definitions and while not every moment may hit the mark, the experiment is illustrative, the risk-taking welcome.
Tracks and Personnel
Housewarming
Tracks: Whispering Grass; Light; When He Loved You; Moonlight in Vermont; Decrement; Housewarming; Ghost Story; New Old West Theme; Hymn of Thanks; Lighter than Air; Arise; Everything You Need; I Could Have Danced All Night
Personnel: Jeremy Siskind: piano; Nancy Harms: voice; Lucas Pino: tenor sax, clarinet, bass clarinet; Kurt Elling: voice (tracks 2 & 11), Peter Eldridge: voice (tracks 6 & 8), and Kendra Shank:voice (track 7)
Extension Deadline
Tracks: Extension Deadline; Night Watchman; What Happened Hear?; San Jose; Little B's Poem; Where Angeles Fear; Optimism; Red Flag;
Personnel: Alex Norris: trumpet & flugelhorn; George Colligan: Hammond A-100 organ; Gary Thomas: tenor sax; Rudy Royston: drums
The Stenography Project
Tracks: I Am Not A Robot; 322423; The End; She's Leaving Home; Jean Jaques; Christmas; 22e (To Everyone I miss); Walsje
Personnel: Marike van Dijk: saxophones/compositions; Ben van Gelder: bass clarinet/alto sax; Alan Ferber: trombone; Anna Webber: flute/tenor sax; Lucas Pino: clarinet/tenor sax; Sita Chay and Eli Speirs: violin; Eric Lemmon: viola; Manuel Schmiedel: piano; Rick Rosato: bass; Mark Schilders: drums; Amanda Gookin, Defne Sahin, Ruben Samama: vocals
Post a comment