Barry Romberg's Random Access: Big Giant Head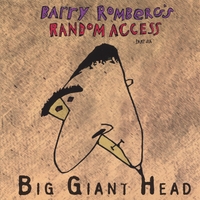 Barry Romberg's Random Access marches on to part six of its musical journey, called
Big Giant Head
. With all the accolades that have greeted earlier efforts, the size of the head is not surprising.
Romberg says that this recording and the previous one, Accidental Beef, (Romhog Records, 2006), involve the most structure the band has had while keeping to the concept of an open harmonic format. This works well as each player opens up the composition to invention and brings in host of delightful surprises.
The music shifts into varied terrain, picking up the harmonic centre of several sound patterns and then shaping them into enticing vignettes. They get into swing, dwell in the blues and blow structure into a tumultuous whirlwind and take abstract strands and turn them into a well-defined body.


"Birthday Cakes and Lawyers, gives the lie to where the rest of the music goes. Kieran Overs plays an open, spacey bass, the lead-in for Romberg, whose accents on the cymbals bring on Kelly Jefferson's weaving, snaking tenor saxophone lines. The music moves into harder terrain, only to draw back briefly and let Geoff Young open a bop-welded melodic fount on the guitar. The animation gets stronger as the tune is propelled forward by Young and Romberg.
The closer, "Geronimo, has a solid structure. Kevin Turcotte leads the heads-up on the trumpet, but then it gets onto the soaring wings of the tenor saxophone with the beat pegged by Romberg. There are shifts in pulse and movement, nothing is at it would seem to be.
There is plenty of fine music served between the two. "Big Giant Head serves the blues, snaking its way in on Young's guitar as he gives it a melodic head and a swinging little tail. Jefferson turns brawny phrases, his articulation open and deep in the pith. This tune grabs the gut and never lets go. "Another Time stands in contrast. The ballad has a keening edge forged by Jefferson's soprano, his ideas fluidly venting and expanding the middle-eastern melody. It's a warm-hearted and coaxing tune.
Barry Romberg's Random Access continues to make compelling music any which way it can.

Track Listing: Birthday Cakes and Lawyers; W & J; Make Up Your Mind; Big Giant Head; Suite For Drum Solo; 44DD; Postcards; Red Rover; Another Time; The Dermonds; Geronimo.
Personnel: Barry Romberg: drums; Kevin Turcotte: trumpet; Geoff Young: guitar; Kelly Jefferson: tenor and soprano saxophones; Rich Brown: bass (2, 6, 8); Kirk Macdonald: tenor saxophone (2, 6, 8); Matt Horner: keyboards (3, 4, 9, 10); Kieran Overs: bass.
---