Ron Levy: Best of B-3 Organic Grooves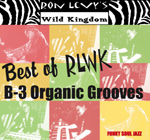 Here's a tip: When offering newbies something pretty good, don't mess things up by highlighting what they're missing. To a newcomer to longtime organist Ron Levy, his Wild Kingdom's
Best Of B-3 Organic Grooves
comes across as a quality collection of funk/blues from four previous releases. But I found this part of its promotional text at his
web site
:
Several songs have been re-mixed and edited down for more friendly radio play times and has also been packaged in a more easily "rack-able" style for stores and filing.


Uh, maybe that's something to whisper to marketers. For me, that means spending 74 minutes wondering what's missing.


OK, with that out of the way, this is a lively and creative collection, if not entirely cohesive in song selection and engineering. Also, while it's pitched as "organ-rich acid jazz," it's more mainstream '60s and '70s stuff in the style of Jimmy Smith than John Medeski.


It's hard not to like Levy's work, regardless of whether he's playing repetitive crowd-pleasing romps or digging beneath the surface for a variety of jazz and blues styles. He performs some of the finest work of the modern era at times, both exploiting the harmonic twists of his B-3 and letting straight-ahead keyboarding speak for itself. Most of the time operates at one speed: full throttle.


It generally works better on slower pieces like "Blues For BB" and "Levtronic Blues," where the sparser audio canvas allows his furious pace of notes to stand out. But he also scores with the hyper-Latin-meets-'60s-rock of "El Fuego De Lowell" and generally outplays his bandmates on the other selections. They bring plenty of energy, but sometimes it's more in line with the thrasher's motto of loud and furious, rather than insightful—too many generic blues/fusion riffs, in other words.


A minor gripe is that some selections end abruptly as new ones with different sonics and styles begin, making it sound like the stitched-together compilation it is. Also, call this a gritty album or cite the pitfalls of live recording, but it's one of the few I've heard recently where poor sound, mostly a muffled quality that stomps on the treble, is a noticeable detriment. It also makes for a muddy bottom end. It seems like this could have received some attention while they were cutting down songs and making other "improvements."


Those wanting to get acquainted with Levy or seeking good organ party music won't go wrong with this compilation, but I'd almost certainly recommend going with one of the albums it borrows from first. Those wanting a free taste can download four of his songs from www.amazon.com .
Track Listing
1) Sons Of Abe; 2) Blues For BB; 3) El Fuego de Lowell [Pt. 2]; 4) SPANK!; 5) Best Cookies; 6) The Wes Side; 7) Some Sorta Blue; 8) Levtronic Blues; 9) Funky Monkey Boogaloo; 10) Soulard Soul Stew; 11) Yo Bro' Yossel; 12) Spangled Star Boogaloo
Personnel
Ron Levy, organ, piano, clavinet, basses, vibes; John Trama, guitar (1-2, 8-9); Joe Russo, drums (1-2, 8-9); Karl Densen, sax (4-7, 12); Melvin Sparks, guitar (4-7, 12); Russ Lawton, drums (4-7, 12); Adrome MacHine, percussion (4-7, 12); Yahuba Garcia (3-7, 10-12); Jeff Lockhart, guitar (3, 10-11); Warren Grant, drums (3, 10-11).
Album information
Title: Best of B-3 Organic Grooves | Year Released: 2004 | Record Label: Levtronic
Post a comment about this album