Mike LeDonne: Bags Groove (A Tribute to Milt Jackson)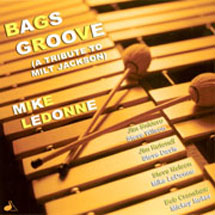 Bags...in all his glory...
Intermediate-sized jazz bands have always been interesting. Miles Davis' 1949 Birth of the Cool Nonette set the stage for all "little-big" bands. Pianist Mike LeDonne's tribute to Milt Jackson, Bags Groove, is performed in this same vein. Ledonne assembles a swinging little octet that effectively takes Jackson's better known compositions and pieces associated with him on a little highway driving. Everything is urbane and intelligent here, much in the same spirit of the great vibraphonist himself. These are well-behaved performances that do not dramatically re-harmonize anything. The songs are rendered lovingly and with great respect while still swinging so hard it will cause your eyes to cross.
It is interesting to hear these Jackson songs against a larger backdrop than a quartet. Horns really expand the sonic topography of the pieces that many listeners will be used to hearing the Modern Jazz Quartet play. The added complexity in no way clouds the original issues of blues, ballads, and soul. The use of organ and trombone, particularly on "Namesake," very effectively telegraphs the soulfulness of Bags' composing skills. While this is pianist LeDonne's date, vibraphonist Steve Nelson more than carries his weight on the disc. "The Prophet," "Reunion," and "Bags Groove" all bear his light touch and sensitive ear. This is another strong release from Double-Time Jazz.
Track Listing
The Prophet; Compassion; Reunion; Namesake; The Harem; Little Girl Blue; Sava Bella; Bags Groove. (Total Time: 60:06).
Personnel
Jim Snidero: Flute Alto Saxophone; Steve Wilson: Alto Saxophone; Jim Rotondi: Trumpet; Steve Davis: Trombone; Steve Nelson: Vibes; Mike LeDonne: Piano; Bob Cranshaw: Bass; Mickey Roker: Drums.
Album information
Title: Bags Groove (A Tribute to Milt Jackson) | Year Released: 2002 | Record Label: Double-Time Jazz
Post a comment about this album