Back to Back Live: Phil Woods & the Los Angeles Jazz Orchestra
Phil Woods may not have the lightening fast facility on the alto sax any more, but he still remains among its the top players. Two recent examples come from concert recordings with the Los Angeles Jazz Orchestra made on back-to-back days in 2004.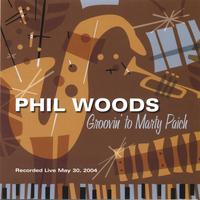 Phil Woods
Groovin' to Marty Paich
Jazzed Media
2005
Groovin' to Marty Paich is a tribute to both the late arranger and to the late alto saxophonist Art Pepper, drawing heavily from the charts Paich created for the landmark album Art Pepper + Eleven. With Christian Jacob leading the band and playing piano, Woods and his bandmates breeze through these charts as if they were old friends, which, of course, most of these songs are to the guest star, so the rather brief rehearsal time prior to the show was of little concern to Woods. Most of the performances are four to five minutes in length and prominently feature the alto saxophonist, while trumpeter Steve Huffstetter also shines as a soloist. Highlights including "'Round Midnight , "Donna Lee , "Bernie's Tune , along with "Anthropology , the latter featuring a rare Woods clarinet solo in a live setting.
Phil Woods
Unheard Herd
Jazzed Media
2006
Unheard Herd focuses on charts written for Woody Herman's Second Herd that were either not recorded or rarely performed. Ron Stout, a Woody Herman alum, takes over leading the Los Angeles Jazz Orchestra for this concert and also joins Woods in making a few remarks to the audience. The alto saxophonist is in top form buoyed by the excellent ensemble work and a number of strong soloists featured, which include trombonists Andy Martin and Scott Whitfield, tenor saxophonist Jerry Pinter, pianist Ross Tompkins (in one of his last recordings prior to his death) and trumpeter Carl Saunders, who has done a bit of recording with Woods in small group sessions for Jazzed Media as well. The best moments are the easygoing take of "Yardbird Suite , "My Old Flame (a feature for Woods alone with the rhythm section) and the rousing finale of "Boomsie .

Tracks and Personnel
Groovin' to Marty Paich
Tracks: Groovin' High; Walkin' Shoes; I've Never Been In Love Before; 'Round Midnight; Donna Lee; Moanin'; Anthropology; Violets for Your Furs; Bernie's Tune; Airegin; Too Close For Comfort; Shaw 'Nuff.
Personnel: Phil Woods: alto sax, clarinet; Frank Sazbo: trumpet; Steve Huffsteter: trumpet; Scott Whitfield: trombone; Rich Bullock: bass trombone; Stephanie O'Keefe: French horn; Don Shelton: alto sax; Brian Scanlon: tenor sax; Bob Carr: baritone sax; Brad Dutz: vibes; Christian Jacob: piano; Chris Conner: bass; Paul Kreibich: drums.
Unheard Herd
Tracks: Keen And Peachy; The Great Lie; Man, Don't be Ridiculous, Yardbird Suite; My Old Flame; We The People Bop; Comments by Phil Woods; More Moon; Comments by Ron Stout; Boomsie.
Personnel: Phil Woods: alto sax; Carl Saunders: trumpet; Mike McGuffey: trumpet; Frank Szabo: trumpet; Bob Summers: trumpet; Ron Stout: trumpet; Andy Martin: trombone; Scott Whitfield: trombone; Bryant Byers: trombone; Kim Richmond: alto sax, clarinet; Bill Trujillo: tenor sax; Keith Bishop; t enor sax; Jerry Pinter: tenor sax; Bob Carr: baritone sax; Ross Tompkins: piano; Joel Hamilton: bass; Dave Tull: drums. ________________________________________________
---
Phil Woods
Phil & Bill