Rent Romus' Lords of Outland: Avatar in the Field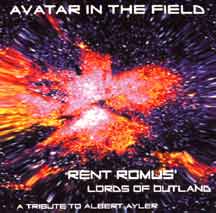 Among the free set, Albert Ayler tributes have become a sort of rite of passage. It's a fitting setting to elaborate the fundamentally spiritual aspects of the music. Witness Peter Brotzmann's '94
Die Like A Dog
Trio, which reminded the world that his musical conception extends far beyond screeches and snarls. Or David Murray's more open-ended '77
Flowers for Albert,
which ignited a persistent debate over Murray's seemingly ubiquitous Aylerisms. Both records were defining moments in the respective saxophonist's careers. These things often end up saying a lot. (And that's fitting, given the inspiration.)
Rent Romus steps to the stage with his quartet Lords of Outland to tackle Ayler once more for the world. And it's a remarkable success. Avatar in the Field takes Ayler tunes and some originals, and re-examines them in light of events from the '60s revolution in free jazz. Romus has the range: his voice on the saxophone covers an amazingly wide spectrum of the vocalizations which Ayler used to redefine jazz. Whether rumbling, growling, shreiking, or simply warbling away, Romus does the saxophone right. His Lords quartet (with trombonist Toyoji Tomita cast as the second lead) also fits well together. Toyoji's 'bone offers many a somber echo to the sax cadences, and he also speaks convincingly on his own, with a fine sense of balance. The rhythm section in Lords of the Realm is where we most prominently hear the progress of freee jazz since the '60s. Bassist Bill Noertker settles with drummer Dave Mihaly into some wicked grooves that owe everything to the music of the '70s; yet they also fragment into accents and colors with equal ease. And when the bassist takes the lead, one has the sense that he's got the drummer by the hand.
If you're into spiritual free jazz, check this one out. And if it takes you back to the music of Ayler, even better.
Track Listing
Avatar in the Field; Holy Spirit; Intro to Zion Hill; Zion Hill; Aces for Albert; Vibrations; V/F Bright and Noble; Dancing Flowers; Snow Ghost; Our Prayer.
Personnel
Rent Romus: alto and soprano saxophones, voice, piccolo; Toyoji Tomita: trombone; Bill Noertker: bass, recorder; Dave Mihaly: drums, percussion, odd things.
Album information
Title: Avatar in the Field | Year Released: 2001 | Record Label: Edge Tone Records