August 2004
Latitude
Groundtruther (Charlie Hunter, Bobby Previte & Special Guest: Greg Osby)
Thirsty Ear
Three world-renowned jazz musicians and experimentalists coalesce for an album constructed upon funk beats, spacey synths and jazz inflected improv. It's the first of a proposed trilogy where guitarist Charlie Hunter and drummer Bobby Previte will add a special guest to each outing. Saxophonist Greg Osby rounds out this congenial program, brimming with a potpourri of jam grooves and outlandish, yet palatable concoctions.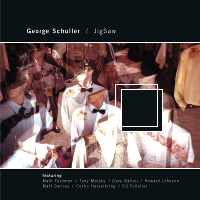 JigSaw

George Schuller

482 Music
Drummer George Schuller once again adorns the listener's psyche via this multifarious engagement. This production features violinist Mark Feldman, trumpeter Dave Ballou, and an amalgamation of innovative New England and New York City modern jazz artistes. Marked by turbulent horn charts, odd-metered rhythms and fiery soloing, Schuller's fertile compositional escapades offer an abundance of interesting propositions. He's the traffic cop throughout. Ultimately, this is modern jazz that is firmly rooted within intricately executed harmonic structures. Schuller's freethinking demeanor proves that chance-taking can sometimes yield positive results.


Balacobaco

Thomas Clausen Brazilian Quartet and Friends

Stunt Records
Pianist/composer Thomas Clausen is a prolific Danish artist. He's internationally recognized for his solo work and collaborations with jazz stars such as Dexter Gordon and Johnny Griffin. What makes this amicable, Brazilian-spiced outing so unique is the addition of harpist Tine Rehling to augment a nonet consisting of a rhythm section, woodwinds, and viola. The music is cheery, breezy and eloquently performed, yet quietly powerful. It's refreshing and slightly nouveau in scope.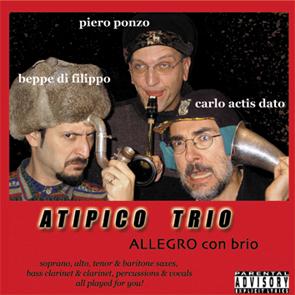 Allegro con brio

Atipico Trio (Carlo Actis Dato, Piero Ponzo, Beppe Di Filippo)

Leo Records
The three multi-reedmen literally kick up a storm here. They traverse diverse paths via complex unison parts, wacky verse, and serious improvisational episodes. Some of the clowning around wears a bit thin on repeated spins, but the effort is loaded with unexpected twists, turns, and hardboiled blowing. Dato is perhaps the better known of the three due to his active and quite prolific solo career, to complement his ongoing work with the Italian Instabile Orchestra. Regardless, this recording signifies a dynamic encounter of like-minded musicians.



Jet Propelled Photographs

University Of Errors

Cuneiform Records
Vocalist/guitarist Daevid Allen (Soft Machine, Gong) leads his ensemble through a revved up, prog-rock musical journey featuring remakes of vintage Soft Machine tunes. Overall, this is a warm-hearted and very likeable outing, featuring psychedelic guitar parts and swift time changes. The quartet covers pieces by British prog icons such as Robert Wyatt, Kevin Ayers, Hugh Hopper and Brian Hopper—all one-time Soft Machine participants. Allen's boyish charm provides an air of innocence. And while the musicians rock out and occasionally jam into the stratosphere, it's a fun-filled jaunt.


The Owner Of The River Bank

Cecil Taylor & Italian Instabile Orchestra

Enja Records
This CD should garner quite a bit of interest. However, it is not as frantic or intense as some might assume. Pianist Cecil Taylor guides the band with motifs while periodically interrupting the various musical processes with flickering runs across the keys. One of his motivations was to enable the orchestra musicians to interpret the music and reshape it into various patterns and hues. Ultimately, the band works within a slight sense of the unknown amid shifts in strategy. Taylor affords the soloists room to breathe and invent here. It's not one of the great pianist's milestone recordings, but a compelling offering nonetheless.


Flamingos

Max Nagl - Otto Lechner - Bradley Jones

hatOLOGY
Max Nagl (saxophones), Otto Lechner (accordion, piano & voice) and Bradley Jones (bass) render these ten tracks with an effervescent flair, marked by chirpy rhythms and an obvious ease of execution. Multicolored in scope and topped off by spirited exchanges and improvisations, Nagl and Lechner loom as near perfect foils here. Whether they are rendering quaint, melodic choruses or soaring into the red zone, the program imparts yet another perspective of the jazz vernacular. Check out the witty and revved up trio version of Charles Mingus' "Work Song/Haitian Fight Song," for example. Thrills a minute here...


Live At The Village Vanguard

Uri Caine Trio
---