April-May 2003
In this column:
Fiona Burnett's high octave octane
New albums: Australian Art Orchestra, John Bell Trio, D'volv
Please italicize album titles; use double quotes on song titles.
Let's only use graphics that are currently on the web. Just send me the links to the graphics, not the files themselves. It will be a huge time saver.
—>

EAST/WEST
Sita. Australian Art Orchestra (Newmarket) 9.5 stars: This orchestra is automatically notable for its illustrious musicians, but that alone does not account for its significance. The music they have produced across several intercultural projects is some of the most creative and exciting this country has on offer. This time esteemed pianist/composer Paul Grabowsky has collaborated with theatre dirctor Nigel Jamieson and lauded Balinese musician I Wayan Gde Yudane on the project which we saw last year at venues including the Sydney Opera House, called "The Theft of Sita". Even without the delicious western/Asian cultural encounters and synthesis as depicted by mediums such as traditional shadow play and innovative stage and lighting techniques, much of the drama's unique flavour and daring can be heard in this score. It cleverly uses a combination of Indonesian and western ensembles to range evoke traditional and contemporary forms, making something new out of the synthesis. Bursts of free jazz, for example, ride on Asian rhythms. Western instruments are tuned to Asian scales and the music uses the pelog and slendro scares in parts. One of the key features of this music is its rowdy energy, so evocative of Balinese music with its percussive pots'n pans clangour and bustling rhythms. The purity of Shelly Scown's voice is the perfect vehicle for the stately, elevated "Sita's Song", while elsewhere the cultural poles shift toward and away from each other. Yudane uses traditional forms but he is interested in pushing them to their boundaries. Where he leaves off, Grabowsky can pick up. So, typically of the Art Orchestra, this is jazz and something else at the same time. Art is the best description. Those interested in contemporary creative music should seek out the Art Orchestra's albums - each different in flavour entirely, yet the same in cultural miscegenation and ingenuity. They hold a special place in the Australian musical canon.



HIGH VIBE


Spirals. John Bell Trio (Newmarket) 8.5 stars: Hailing from New Zealand, vibraphonist John Bell has a few albums under his belt, including the Sanctus project album, "2 Moons" in 2000. His working partners this time are Melbourne players, Ronnie Ferella (drums) and bassist Frank Di Sario, both high profile players on the local scene. The opening, title track – loose, almost rubato in terms of time, and as ephemeral as swirling clouds of gas – demonstrates the freedom and understated attack that the three piece format allows. For such a low-key outing it's astonishing how enthralling the track is, and that quality extends to the rest of the album too. Other tunes, such as "Orbits", are more sharply drawn, yet they also elicit this feeling of relaxation and focus at the same time. This music speaks to you, not forcefully but persuasively with charm and gentle enticement. It can swing, like "Orbits", or paint languid pictures in something like Keith Jarrett's "Everything That Lives Laments". In his writing, Bell has a sure knack for melody – check out "Dreamers" – while his approach to the instrument is mostly to let the chords lay lugubrious waves of vibrato, a thick bed of sound, that easily fills the spaces in the trio instrumentation. The clever theme and voicings at the start of "East West Fantasia" give way to a quite assertive, quasi-funky strut that indicates a different hand to Bell's, and turns out to be one of a couple of Ferella's tunes. Di Sario's "Melody in The Memory of Milt Hinton", prompted by and guided by the acoustic bass, draws lines as carefully as a charcoal sketch in progress. In all, an album of pleasures, with something to savour at every turn.

WOOD AND WIRES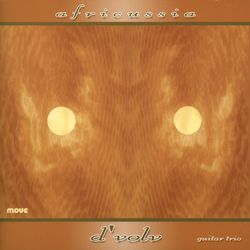 Africussia. D'volv (Move) 7.5 stars: This is the second album by the guitar trio. The three players – Jim Kelly (steel string), Peter Martin (electric guitar) and John Fitzgerald (nylon string) – have a lot of playing experience behind them but these days also underpin things with their teaching careers at Southern Cross University in northern NSW. The complement of nylon and steel string and electric guitar makes a trademark sound for the trio and a pleasing meld of timbral qualities. The playing skills of these three are not a question but this album does have a little too much of a low-key and slightly studied, polite air about it. While it pleases, it could do with more imagination in the writing and the use of the guitars – right down to the wood, if necessary – to create more varied textures and edge than they achieve here. Though "Deep Tango Blue" and "Feel No Pain" are outright successes, it would have been nice to hear the guys extending themselves a bit more.



ORGANIC


Waiting For It. Ish Ish (Newmarket) 9 stars: Melbourne drummer Ronny Ferella's highly esteemed quintet never fails to produce idiosyncratic music. Their quirky and unusual combination of something akin to free jazz amid tight structures and meticulously precise arrangements – often at the same time – is masterful indeed. This organised chaos, recalling something of Mingus, Ornette Coleman and Gil Evans, begins with the solid rhythmic impetus of the drums which is often offset by counterposed time structure for combined choruses of the trombone, sax and trumpet. It all sounds coherent yet the contrast of structure and looseness gives this music a sense of freedom and playfulness underpinned by sturdy foundations. The lead instruments, when not in lockstep rhythms and tight harmony, roam and graze, like herd animals. This is music of great personality and, despite its lack of ostentation and showiness, masterly skill.

INTERVIEW: FIONA BURNETT
I suppose all players make a strange kind of pact with their chosen instruments. They know it takes a heap of commitment to play the thing well, and in doing so you must accept its challenges and even, perhaps, its limitations. And you're type cast for doing so –"all drummers are like this, all bass players are like that" . . .
But if jazz instruments were paraded in an orphanage, it's my guess the soprano sax would be one of the last still standing there after the others saunter off with their new sponsors. It's a touchy instrument, brittle in nature though possessed of fertile fields of lushness, and most especially, thrilling and exciting possibilities in the high register which compensate for its waywardness.
In jazz, few players have devoted themselves to just the soprano, it having a much more notable career as a second string instrument such as with Coltrane's example.
This is partly what makes the case of Melbourne's young saxophonist Fiona Burnett immediately interesting. The other thing is that she's such a capable and creative player of the soprano, one who knows how to exploit the instrument and who also has something worthwhile to say. With Burnett, the skill level – extreme in being able to bend the instrument to her will – is a distant second to the emotional impact of her playing. On this or any instrument, she is a highly creative musician. But when it comes to the soprano, it seems the bete noir of the saxophones has met someone worthy of it.


We spoke just after the launch of her third CD under her own name (see previous Notes From Down Under) and as she was grappling with the demands of being a new-ish mother, travelling to Canada to play and her recent posting as a board member on the country's most important arts body, the Australia Council.

AAJ: Soaring at Dawn is another departure for you, yet it was written a couple of years ago. Was it written before 3 Voices ?


FIONA BURNETT: Yes. Soaring was written in 1999, before any of the material on my trio CD Three Voices was composed. Soaring at Dawn was first performed in December 1999 at the Melbourne Women's Jazz Festival at Bennetts Lane and the version heard on the CD was recorded by Mal Stanley for Jazztrack on ABC Classic FM in January 2001 at the Melbourne International Jazz Festival. Although I had spent many months throughout 1999 considering what I may do with this instrumentation, the composition was written rehearsed and performed in a flurry of about two weeks.
"Soaring" is a departure from the quartet project, but this work was the catalyst for my trio. I asked Ben Robertson and David Jones to perform this work as I thought that they were the right musicians for this project and would both bring the right musical qualities to the project. The trio followed on from this and has become my central focus creatively as well as a launching pad for other compositions and projects.
It was a conscious decision on my part to release "Three Voices" with the trio prior to "Soaring At Dawn" for jazz trio and string quartet. "Three Voices" introduces this trio as my current working ensemble and "Soaring At Dawn" presents this jazz trio in a setting that is contrasting to anything else that I have released thus far.

AAJ: To give us an outline of your discography so far, tell us about the first couple of albums.


FB: The first CDs that I was involved in producing were Talk Walk Whisper and Have You Heard the News Today?, both with the ensemble Morgana.
These recordings documented the collective voice that had evolved naturally within this ensemble as the result of a lot of live performing. I foundered Morgana in 1992 and it was at the time the only all female small jazz ensemble in Australia. The group featured vocalist Lisa Young, myself on soprano, pianist Sue Johnson, Annette Jenko-Yates, double bass and Sonja Horbelt, drums. The energy of this ensemble live was really something else and I think that these studio recordings are a good document of this.
Venus Rising, recorded in 1998, was my first album as a leader and it features my working quartet at the time. With this CD I wanted to start establishing myself as a bandleader. I had just come out of a period of intense study, both academically and practically, having just finished my Masters degree in 1997. As a Master's student I studied classical saxophone and contemporary classical composition.
The material that I recorded for this session was the antithesis of this study. After having expanded the musical possibilities available to me I felt the need to react by embracing my love of, [relatively], straight ahead jazz. Most of the original material of my own that appears on "Venus Rising" was written for this session and it also features a couple of my favourite standards, "Blue in Green" and the Wayne Shorter tune "ESP".
"Racer" was recorded in 2000 at the conclusion of a national tour and a residency at Bennetts Lane in Melbourne. This recording took place during a time when I was spending as much time as I could on the bandstand. All this gigging helped enormously to push me along on a lot of different levels.
It is another quartet project featuring a slightly different lineup —Mark Fitzgibbon piano, Matt Clohesy double bass and Darryn Farrugia drums. This CD documented a lot of material that I had written over a period of eight years but had not had the chance to record before. Again this recording features two standards, the classic tune "Caravan" and another by Wayne Shorter, "Black Nile".
Then Three Voices, released in October 2002, this album was recorded in two sessions the first was a [ABC] Jazztrack session in April 2001 and the second was funded by the Australia Council and took place in June 2002. Many things occurred between these two sessions, the most significant being the birth of my daughter, Aurora, who then provided inspiration for many of the compositions recorded at the second session.
The trio is the apex of my current musical activities. The direction of this album is quite a radical shift from the quartet recordings but it is representative of areas of music that I have been delving into and exploring.
I have to say that I LOVE this rhythm section. They are supportive in so many ways and they have both made invaluable contributions to the processes of creating this music, hence this recording is not me plus a rhythm section, but in fact three voices.

AAJ: What prompted you to take that route on Soaring At Dawn (i.e., the string quartet)?
FB:The project with the strings was something that I thought about for along time before it happened. It wasn't necessarily inspired by what other jazz performers/composer had done with strings although I did listen to some recordings that incorporated strings in jazz settings as a study of what had been done before and how composers had achieved particular effects.

It more came out of a love of the sound of the string quartet, timbral possibilities, the desire to create bridges between musical styles that resonated with me. Soaring at Dawn was a project that enabled me to focus on composition first and improvisation second.
Previously I had composed one notated work for string quartet, but composing for string quartet plus three improvisers created a whole new set of problems to solve. Although there are numerous similarities between improvisers and non-improvisers there are differences in the way that we describe and interpret music that have to be negotiated. Fortunately the Silo String Quartet are well versed in the "jazz lingo" and I have a back ground in classical music and so there is plenty of common ground. Between 1996-98 I studied with leading contemporary classical composer Mary Finsterer. Mary really opened my eyes to so many creative possibilities, we would look at the creative process, the stages within it and tools in which to generate material, some of which were derived from contemporary classical music and in particular serial music techniques.
I have for many years thought of myself as a player first and a composer second. I now see composition as improvisation in slow motion, athough I do find that composition is often created at the same rate as an improvisation, but then I guess you have the luxury then to refine the music, before it is presented publicly.


So it really came out of a desire to bridge notated and improvised music and the sound of a string quartet led me in this direction.


AAJ: The soprano sax is an unusual thing for someone to make their unique instrument. Can you tell us some thoughts about that (ie, has Steve Lacy's music — or at least his example — been useful to you?

FB: As a child I played both piano and alto saxophone. When I was around 15 or 16 I heard Branford Marsalis' playing on the live Sting album Bring on the Night and from then on I wanted to play soprano.
Branford's soprano playing on this record is so lyrical, melodic and expressive and his sound completely captivated me. I went on playing alto and then at the age of 19 bought my first soprano for $500.
So I now have been playing soprano first and foremost for over 12 years. I wasn't so aware of other soprano players when I made the move over to soprano; to me the sound of the soprano facilitated what I heard, rather than trying to emulate another player.
Once I was playing soprano through I did look at and continue to study what others have done on this instrument. In the history of soprano players there have been some very interesting and unique voices, at the same time these voices are very contrasting.
I do think about this - and this leads me to the thought that any instrument has the potential to sound completely different from one player to the next. I don't feel the same pressure to be a bebop saxophonist in the way I did when I played alto and I don't feel the pressure to sound like another just because I play the same instrument, or even if I do at times I choose to rebel against it. I think that I am lucky in as much as I found the right instrument fairly early on and this has greatly contributed to my creative direction.


Having said this though, David Liebman has been the most influential soprano player on my playing and through my study with him I regard him as a mentor. His teachings and aesthetic have been influential to me on many levels and his example has inspired me to follow my own direction.




The soprano is a challenging horn to play, but in my experience it has been very rewarding. All instruments have their unique challenges that one needs to harness in order to be able to successfully obtain creative freedom on the instrument. All woodwinds and brass instruments present a particular set of challenges that are different to other instruments and it normally takes a while to get a handle on these difficulties. It takes at least ten years on saxophone to develop a decent tone. Soprano is hard, yes, but no harder and in fact probably easier to control than oboe or other double reeds – it's all relative.
What I have tried to develop is a clear, almost classical sound, on the soprano, but with the flexibility of timbre and pitch which is derived from jazz, thereby focusing on developing both sound and technique in order to create a launching pad for freedom within improvisation.
Link: Fiona Burnett Online
Photo Credit: Ponch Hawkes
Post a comment