Anthony Braxton & Wadada Leo Smith
Submitted on behalf of Dave Wayne.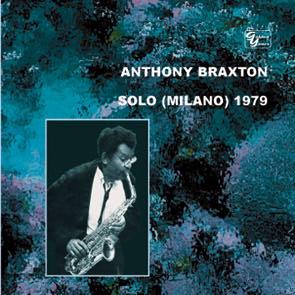 Solo (Milano) 1979, the second solo Anthony Braxton disc to be issued on Leo's Golden Years series, consists of a single concert given on January 17th. A look through my entire Braxton collection (30- odd LPs and a dozen or so CDs – an admittedly paltry sampling when you consider that he has recorded more than John Coltrane and Ornette Coleman, combined) failed to turn up any previous recordings of the compositions on this disc. Solo (Milano) 1979 is simply a rewarding listen despite its rather dry, boxy sound. It starts off in a feisty mood: "Compositions No. 77b" and "119a" are both fast-paced and complex, full of unexpected twists, hairpin turns, and Braxton's characteristic humor. The set's closer – "Composition No. 106m" – is similar in character, and gives the listener the impression that the maestro was only getting started. The two standard renditions are, in a word, marvelous. Braxton's sweeping take on Benny Golson's ballad is awe-inspiring. He tears through choruses in double and triple time, effectively balancing the sweet sadness of the basic theme and changes with his own brand of saxophonic tough love. "Out of Nowhere" starts off insouciant and Konitz-ian, though this feeling gets disrupted by Braxton's humorously exaggerated choppy phrasing and unexpected leaps into double time. These antics perturb the natural flow of the piece only slightly, and Braxton brings it to a gentle and swinging conclusion.
The remaining tracks are related by more than their titles. "Compositions No. 8g," "8h," and "8i" are largely (but not exclusively) explorations of Braxton's so-called language musics. "Composition No. 8g," for example, is a roiling mass of multiphonics, key clicks, breath sounds, spilt tones, and spittle rattle. "8h" is an extended investigation of trills and intervallic leaps with a remarkably emphatic ending. "8i" investigates extreme contrasts in attack, volume, space, tonality and tempo. Both "99L" and "99m" sound a bit like saxophone scale exercises at first. "99L" is somewhat Eastern-sounding, and becomes more convoluted and tuneful as its phrasing lengthens and more variations are spun out. "99m" is quite captivating, consisting of repeated figures interspersed with oddly familiar, jazzy phrases and variations that take on an oddly dark and introspective mood. The triumph of Anthony Braxton's art is that all of this is illumined by the man's indomitable spirit of creativity and discovery.
Wadada Leo Smith was a member of several of Braxton's most distinctive early small groups of the late 1960s and early 1970s; a trio with Leroy Jenkins that recorded an LP ( Silence ) for the Freedom label in 1969, a quartet (with Jenkins and Muhal Richard Abrams) that played on Braxton's first LP as a leader ( Three Compositions of New Jazz, on Delmark), and another quartet (with Jenkins and percussionist Steve McCall) that recorded 2 LPs for the French BYG label. Organic Resonance is the first recorded document produced by these two titans working in a group of any size in over 30 years. Recorded live during a concert at Tonic (NYC) in early April, 2003, Organic Resonance captures both Smith and Braxton in top form. Far from showing any signs of middleaged mellowing, both play with consummate grit, fire, and invention. The two Braxton pieces ("Composition No. 314" and "Composition No. 315") are departures from the Ghost Trance Music series, as neither makes use of GTM's characteristic pulsing substructure. In fact, "314" opens with crystalline fragmented phrases, suspended in time, and completely without tempo. In some ways, and perhaps only coincidentally, this hearkens back to Braxton's and Smith's aforementioned work from the late '60s/early '70s. Not surprisingly, the rest of "314" sounds nothing like anything from 30 years ago. Jumping off into the furious tempo of "315," the pair negotiate a wildly twisted theme with pinpoint precision before launching into a rapid-fire cooperative improvisation. Throughout both pieces, Braxton solos with raw, blasting abandon, sometimes employing Dewey Redman-like growling vocalizations. Smith, too, seems fascinated by the sheer variety of textures he can generate with his horns. Their improvisational dialogues are tight and telepathic – the duo listens hard and seems to anticipate and complete each other's thoughts in surprising ways.
Smith's pieces are quite a bit different, though they are supported by the same mercurial interplay. Both the gracefullypaced "Tawaf" and the darker, more introspective "Celestial Bow"... have a ritualistic feel. "Tawaf," with multiple sections, includes explorations of trills, long tones, silences of different durations. The roles of the two players, one playing thematic material or long tones while the other solos, continually reverse. Braxton and Smith never get in each other's way, and they develop and exchange ideas in a relaxed, conversational manner. Yet, without being lofty or stuffy in a pre-conceived way, it's readily apparent that theirs is no mundane chatter. Smith and Braxton are musical magicians whose improvisational sleight of hand pervades Organic Resonance, and makes for a scintillating listen.
Leo Records on the web: www.leorecords.com .
Pi Recordings on the web: www.pirecordings.com .
Solo (Milano) 1979, Volume 1
Track Listing: Composition 77b/ Composition 119a/ Composition 8g/ I Remember Clifford/ Composition 99L/ Composition 8h/ Out of Nowhere/ Composition 8i/ Composition 99m/ Composition 106m
Personnel: Anthony Braxton- alto saxophone
Organic Resonance
Track Listing: Tawaf (Cycles 1 – 7)/ Composition 314/ Composition 315/ A Celestial Bow, Stone Rivers, and Silver Stars Overlayed in Red
Personnel: Wadada Leo Smith- trumpet, flugelhorn; Anthony Braxton- alto, soprano, sopranino saxophones


---
CD/LP/Track Review
Multiple Reviews
CD/LP/Track Review
Live Reviews
CD/LP/Track Review
Live Reviews
Read more articles