And The Angels Sing: Roberta Donnay, Nancy Osborne, Sylvia Bennett
The hits just keep on coming. The flood of fine female jazz vocal recordings shows no sign of letting up. "Let it rain, I say. Here are three more releases for your consideration.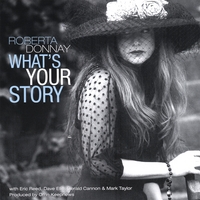 Roberta Donnay
What's Your Story
Rain Forest Records
2006


What's Your Story is a fun recording. As well as possessing a great name, Roberta Donnay has a great swing-blues voice. Swinging is what she does right out of the chute with the title track, which begins in a fast 4/4 before moving into a relaxed 3/4; uber-pianist Eric Reed is up to the time-shifting challenge, modulating the piece from the keyboard. Donnay goes on to purr and growl in convincing roadhouse fashion on songs as different as the barreling "Put It Where You Want it and the balladic "Small Day Tomorrow.
The album is ultra-cool, and with the exception of Donnay's sexy edge—there's a well-tempered shiver in her voice—there is a sleepy Sinatra feel to much of the proceedings. Reed pushes her to express this edge in "Devil May Care, "Life In The Slow Lane, and "Don't Let The Sun Catch You Crying. Donnay proves she can belt it out with the best of them on the last of these before wrapping things up with the spanking trifecta of the funky "If You Live , the elegantly boozy "Drinking Again and, finally, the perfect jazz of "Blue Monk (Monkery's The Blues) .
Running harmoniously in parallel with its Sinatrian cool, there is a deep blues vein passing through What's Your Story, but it is a refined one. It is more scotch and leather and less beer and sawdust.


Nancy Osborne
Hot Swing, Cool Jazz
Nancy Osborne
2006


Bright and brassy, Nancy Osborn's Hot Swing, Cool Jazz will warm the cockles of any swing fan's heart. It is a completely safe outing that is guaranteed not to offend any listener, save for those curmudgeons who pine for more adventuresome fare. Cutting edge this recording is not. To give it a universal broad brush description, it sounds like an extremely hip Lawrence Welk performance.
This description is in no way intended to speak negatively of Osborn's or her band's efforts: the disc possesses luminous arrangements and note perfect singing. Osborn's alto is pleasant and strong, no nonsense in its approach and execution. She has solid chops that are more than likely under utilized on this recording as the production bears the slightest whiff of playing it safe. Highlights include an over-the-top "Ding Dong The Witch Is Dead and a finely crafted "I've Got You Under My Skin. "And All That Jazz, from the show Chicago, is a perfect vehicle for Osborn's brand of standards singing.
Hot Swing, Cool Jazz is a recording that will appeal to conservative listeners—those who embrace the memory of June Christy and Peggy Lee. It's straight down the middle of the big band/vocalist highway, and in the right hands that is not a bad thing.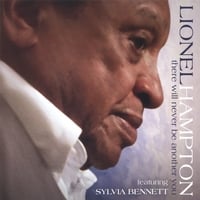 Lionel Hampton featuring Sylvia Bennett
There Will Never Be Another You
Out of Sight Music
2006


Technically, this is a Lionel Hampton recording, his last before his death in 2002. But it is the presence of Sylvia Bennett that lands it in this bundle. The disc was recorded in 1989 when Hampton was 81 years old. It is impossible not to marvel at the octogenarian's still virile vibraphone playing and arranging capacity. His big band is big with a big sound. Band and arrangements are tight and well integrated. There is a very modern, post-swing sound to the scores, which nevertheless retain a certain swing era charm. Confused? Well, it is a paradox.
The band tears it up on the opener, "Just One Of Those Things (sporting a superb Hampton solo) and "Cookin' In The Kitchen, which gives the low reeds a workout, splendidly captured in the right speakers. Bennett shows off a durable, almost coquettish voice, on the title cut and "Sweet Man Of Mine, the latter sounding almost as if Elton John had written the piano charts. When the whole band chimes in in the middle of the first verse, a dense vamp momentum is established allowing Hampton to solo over a vaudeville blues figure. Bennett's voice is well suited for the big band stage, able to go from whisper to roar at the speed of sound. "Bill Bailey, presented over complex charts and a samba rhythm, would be a crowd pleaser in concert.
Hampton found his vocal soulmate in Bennett and the chemical reaction the two conjure on There Will Never Be Another You is as inventive as it is entertaining.



Tracks and Personnel
What's Your Story
Tracks: What's Your Story, Morning Glory?; No Regrets; Put It Where You Want It; Small Day Tomorrow; Stop This Train!; Devil May Care; Life In The Slow Lane; Don't Let The Sun Catch You Cryin'; If You Live; Drinkin' Again; Blue Monk (Monkery's The Blues); Dindi.


Personnel: Roberta Donnay: vocals; Eric Reed: piano; Gerald Cannon: bass; Mark Taylor: drums; Dave Ellis: tenor saxophone.


Hot Swing, Cool Jazz
Tracks: I Love Being Here With You; Mister Sandman; Ding Dong The Witch Is Dead; I've Got You Under My Skin; It's De-Lovely; Something's Gotta Give; Only You; And The Angels Sing; And All That Jazz; He's A Tramp; Pardon My Southern Accent; Two Lost Souls; The Gypsy In My Soul; Georgia On My Mind; Hallelujah, I Just Love Him So; As Long As I'm Singing.


Personnel: Nancy Osborne: vocals; Charlie Davis, Ron Barrows, Mike McGuffey, Barbara Laronga: trumpets; Charlie Loper, Paul Young, Linda Small, Bryant Byers: trombones; Pete Christlieb, Gary Herbig, Darryl Winsman, Andrew Martinez, Cindy Bradley, Mike Acosta: reeds; Jim Cox, Tom Ranier: piano; Ron Hershewe: guitar; Geo Valle: bass; Sammy K: drums; Ned Rifken: guest vocalist.


There Will Never Be Another You
Tracks: Just One Of Those Things; There Will Never Be Another You; Cookin' In The Kitchen (a.k.a. Jumpin' At The Mudhole); Sweet Man Of Mine; Beulah's Boogie; Bill Bailey; It Might As Well Be Spring; Together; Red Top; Please Love Me; Someday; You Make My Heart Sing; You Make My Heart Sing (Remix).


Personnel: Lionel Hampton: vibraphone, synthesizer; Sylvia Bennett: vocals; Mike Lewis: conductor; Hal S. Batt: keyboards, guitar, bass; Bobby Pancoast: keyboards; Neil Bonsanti, Billy Ross, Chip McNeil, Jeff King, Whit Sidener: saxophones; Jim Hacker, Brett Murphy, Tony Luschen, John Georgini: trumpets; Phil Gray, Tom Darling, Dana Teboe, Greg Cox: trombones; Sammy Figueroa: percussion; Dave Hardman, Gary Kujack: drums.