Kareem Roustom, El-Zafeer Ensemble: Almitra's Question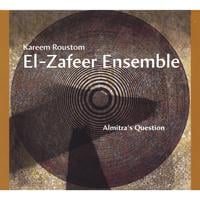 Guitarist Kareem Roustom was born in Damascus, Syria to American and Syrian parents; on
Almitra's Question
he and the El-Zafeer Ensemble make music that blends American jazz with Arabic sounds. The rhythm patterns and the distinctive percussion (riqq and daff) lend an exotic and crisply declamatory backdrop to Roustom's lush accoustic guitar playing and violinist Hanna Khoury's sweetly sinuous lines. Exotic, mysterious—especially to an ear (like this reviewer's) that hasn't listened to much of the music from the East.
Spirituality always seems an underlying theme. The group plays the ever-spiritual John Coltrane tune "Naima" and Oliver Messiaen's "O Sacrum Convivium," along with four Roustom originals; and even his prosaically named "Burnt Onions" seems suffused with a gentle, ecstatic soulfulness.
The set has a cohesive, collaborative feel, with violin and guitar sharing the space like dancers, a sort of Django/Grappelli sound with a softer and more lilting tone, leaning eastward; or like something you might hear from an acoustic Bill Frisell, if he were to immerse himself in Arabic sounds.
To this ear
Almitra's Question
has charmingly simple, accoustic atmosphere, similar to—though rhythmically different from—flamenco.
Enchanting stuff!

Track Listing: Sandstorm, Naima, Almitras' Question, O Sacrum Convivium, Burnt Onions, Salwa's Last Dance
Personnel: Kareem Roustom--guitar; Hanna Khoury--violin; Danny Dunlap--bass; Catherine Alexander--percussion (riqq & daff); Souhail Kaspar--percussion (riqq & tabla); Karim Nagi Mohammed--percussion (riqq & daff); Fernando Huergo--bass; Ronit Kirchman--additional violins on "O Sacrum Convivium"
---