Phil Urso and Carl Saunders Salute Chet Baker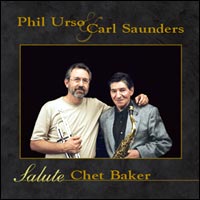 buy album
Label: Jazzed Media
Released: 2004
Views: 594
Track Listing
Jumpin? Off A Clef; For Minors Only; Halema; Mister B; Funk In A Deep Freeze; My Funny Valentine; Baby Breeze; Way To Go; Worryin? The Life Out Of Me; Line For Lyons.
---
Personnel
Additional Personnel / Information
Phil Urso, Tenor Saxaphone; Carl Saunders, Trumpet; Keith Waters, Piano; Colin Gieg, Bass Paul Romaine, Drums.
Reviews
Instrument: Saxophone, tenor
Article Coverage
|
Albums
|
Photos
|
Similar Artists
---
Post a comment about this album