Acoustic Reign Project: Acoustic Reign Project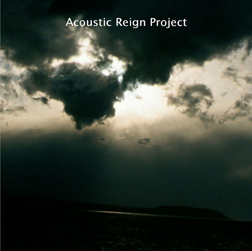 What separates the men from the boys, so to speak, in free jazz is Gary Peacock's term "spontaneous composition." At its worst self-indulgent, at its best transcendent, free jazz is arguably the genre that shows off exactly how big the ears of its participants truly are. In the case of
Acoustic Reign Project
the ears are very big indeed, as the group navigates its way through four free improvisations that demonstrate a high level of interaction and empathy.
Trumpeter Jim Knodle has been playing free jazz for over two decades, and he clearly understands how to pull motifs out of the ether. In tenor saxophonist Brian Kent he has the perfect foil: a player who is independent enough to chart his own course, but sympathetic enough to grab onto ideas presented and work closely with them. Bassist Reuben Radding, who also has a history in the avant-garde and is equally at home plucking, strumming and bowing his instrument, works well with drummer Jack Gold, as they sometimes barely breath on their instruments, other times creating a maelstrom behind the front line. Again, the two show a remarkable musical telepathy with Kent and Knodle. While guitarist Roger Fisher adds some interesting texture to "Heat," the one track on which he performs, it is almost an afterthought; still, he demonstrates the same ability to coalesce with the others and then diverge into foreign territory.


While this is clearly an exercise in group improvisation, it does appear that there are, at least, some roadmaps within the four pieces. If the ears can't support that, then the fact that Fisher is listed as co-composer on "Waves (The Storm)," on which he does not perform, would support the fact that there must be loose sketches provided, around which the group experiments. But because themes seem to come and go, and are rarely repeated, the ensemble manages to completely blur the line between composition and improvisation. And that is the beauty of what they do.


While there is little in the way of a rhythmic or harmonic centre on any of these pieces, they do manage to have a strange sense of inner logic and development. Occasionally the rhythm section comes together and establishes an actual groove, as on the 19-minute track "Heat"; but it isn't long before Radding and Gold break down into chaos once again.


While Acoustic Reign Project is not an easy listen, it is more accessible than, say Evan Parker, Chris Burn or Joëlle Léandre. And the clear communication that exists between the players is a true delight; with Acoustic Reign Project Knodle, Kent, Radding, Gold and Fisher show that free improvisation can be more than simply a vehicle for self-expression; it can represent a group mind, a collective that listens to each others' ideas and builds on them to create new and meaningful ideas.


Visit Acoustic Reign Project on the web.

Track Listing: Depths, I Don't Need This, Waves (The Storm), Heat
Personnel: Jim Knodle (trumpet), Brian Kent (tenor saxophone), Roger Fisher (guitar on
---