Mili Bermejo: A Time For Love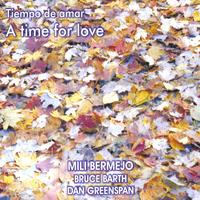 From the opening it's got that ever-so-subtle touch that separates moving ballads from cocktail lounge fodder.


A Time For Love finds singer Mili Bermejo in a less-is-more setting, relying mostly on a piano and bass backing instead of the sextets and octets from her past few albums. It's a wise choice for an album inspired by global political/social unrest due to the Iraq war and the death of her father and brother a few months before the recording session.


The sparse arrangements allow the members of the trio to fully interact and support each other, with pianist Bruce Barth and double bassist Dan Greenspan consistently evolving with Bermejo, rather than providing a mere foundation. Equally important, Bermejo's voice fits ideally with the timbre of the instrumentation and there's a legitimate sense she's putting her heart into many of the songs. Not that the longtime pro gets overly emotional; she keeps her range well within a zone of comfort. Also, she's low-key throughout here—for a spirited session one needs to look to 1996's Identidad concert album.


Many of her vocals are in Spanish and Portuguese, but she's as much an instrument as a lyricist, so they work to good effect. It seems certain her melodramatic phrasing and the minimalist bass on her brother's "El Maleficio De La Mariposa" tell some darkly beautiful story (or it could be nothing more prolific than "Camptown Races," but English-speaking listeners won't know the difference). She mixes languages, serenades and even a bit of scat improvisation on "Are You There?/La Rama," where Barth matches the mood note for note. And one wonders what the tragedy of "Ay Pais" is, even as she gets away with some unexpected tempo shifts and Latin percussion one normally would consider out of place.


The lesser moments of A Time For Love, aside from the low-key setting limiting its ceiling for greatness, are mostly minor. The tribute thing seems overdone at times—"Bird Alone" is a fine ballad, but it's (deep breath) Abbey Lincoln's dedication to Miles Davis in the apparent spirit of Charlie Parker, which Bermejo dedicates to her brother. The album also could do without the 93-second straight-ahead rendition of "For All We Know," or least not allow it to follow the lively percussion-infused "Maracagalha" in closing out the album.


This could be a stronger album, but there's certainly nothing wrong finding comfort in a good one and this ought to make it past the listen-and-file-away shelf of most Latin ballad fans. It will also be a welcome change for Bermejo's fans and give them something to look forward to when she unveils her next change of pace.

Track Listing: A Time For Love; Declaracion En Son; Are You There?/La Rama; Senora Cantora; Ay Pais; My Song Too; La Nina De Guatemala; Ay Soledad; Bird Alone; El Maleficio De La Mariposa; Choro Bandido; Maracangalha; For All We Know
Personnel: Mili Bermejo, vocals; Bruce Barth, piano; Dan Grennspan, double bass
---
Mili Bermejo
Arte del Dúo

Mili Bermejo
De Tierra