King Tubby: 100% Of Dub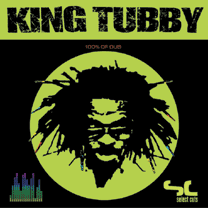 In the world of dub, King Tubby is an icon. He earned credit for getting the ball rolling back in the '70s, bringing reggae music into a hypnotic realm. But he didn't play any instrument in the usual sense - his tools were his electronic boxes. His remixing and effects (most notably reverb) forever changed the way Jamaican music would sound. Most notably, his early work with Bunny Lee's Aggrovators sparked a revolution.
One can only imagine how many cuts sit in the King Tubby archives. The man was incredibly productive, and only a fraction of his work made it onto vinyl (and later aluminum). So a new blast of Tubby always comes as a welcome surprise. In this case, 100% Of Dub includes 20 tracks—all but two clocking in under four minutes—and a fearsome list of musicians. The plate is stacked full on this disc from Germany's Select Cuts label.


The liner notes give an excellent background about the dub wizard's career and influences, but they don't provide much in the way of detail on which musicians appear on which tracks. In one sense, that's a shame, because this is a historical document. But in another sense, it matters not, because that very fact forces the listener to appreciate the engineering and studio work that King Tubby injected into all these tracks. The common element is Tubby.


100% Of Dub represents a very broad range of material, from downtempo to up-tempo, classic to rocksteady, a little of this and that. Tracks like the instrumental "Crime Wave" bring out the depth of rhythm and timbre Tubby made possible. His trademark reverb fades effortlessly in and out of the insistent pulse of the guitars and the patter of the drums, blending to form a seamless whole. "Better Version" includes dramatic effects, including unpredictable changes in the vocals and guitars. Outerspace noises poke out here and there, making the tune a surreal experience.


Dub, as it has continued to evolve, sometimes bears little resemblance to the music on this disc. Surely King Tubby would not have predicted all the branches that would sprout from his tree. But this is the original: timeless, moving, and fresh.


Visit Select Cuts on the web.

Track Listing: Flag Dub; Drumillie Rock; Dub Fever; Roots Dub; Real Gone Crazy Dub; Stalawatt Version; Better Version; Roots Dub; Crime Wave; Lambs Bread Herb; Jah Jah Dub; Dubbing My Way; Tubby's At The Control; Declaration of Dub; Invasion; Water Dub; Narrow Dub; Tribal War; Rub A Dub; 100% Of Dub.
Personnel: Sly Dunbar, Carlton Davis, Carlton Barrett: drums; Robbie Shakespeare, Lloyd Parks, Georges Fulwood: bass; Earl "Chinna" Smith, Rod Bryan: Guitar; Winston Wright, Ansel Collins, Gladstone Anderson, Jackie Mittoo: organ; Tony Chin, Aston Barrett, Brother Bagga, Brother Morris: rhythm; Augustus Pablo, Ossie Hibbert, B. Harvey, J. Clarke: piano; Tommy McCook, Roland Alphonso, Lester Sterling, Bobby Ellis: horns.
---