Blue Collar: _ is an Apparition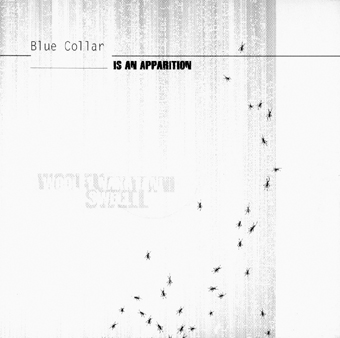 Blue Collar's oddly titled debut recording is a demonstration of how to avoid the ordinary. The musicians, all virtuosos, eschew every convention of music here, opting for displays of "extended technique"? or inspired noisemaking. Not until track five do the excellent brass players deign to play actual notes. They do grunt, huff, puff, squeal and produce just about every other possible sound. Tatsuya Nakatani complies and complements, pulling from a voluminous bag of percussive textural effects.
_ is an Apparition
is at times unsettling listening—there isn't a pretty, soothing or foot-tapping nanosecond, but Nate Wooley (trumpet), Steve Swell (trombone), and Nakatani (drums) have produced a work that seeks the outer limit of acoustic music possibilities and seems to have found it. The remarkable thing is, aside from the fact that they had the courage to go this far, they seem to feel comfortable out here, miles from the mainstream. It's somehow bracing to hear pure daring in sound.
I've been a solid admirer of Swell's for some time and am growing more impressed by Wooley with each performance absorbed. Nakatani is a unique, searching percussionist. Catch these players in one of their many live appearances, together or separately, to hear creative music at its highest level.

Track Listing: [92]; [19]; [40]; [22]; [31]; [63]; [49]; [48]
Personnel: Nate Wooley: trumpet, voice
Steve Swell: trombone, percussion, voice
Tatsuya Nakatani: percussion
---