"Traneian Blue" by The Bob Brough Quartet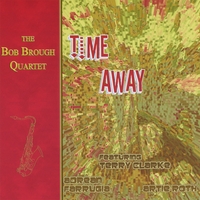 From
Time Away (Self Produced) by The Bob Brough Quartet
About
Instrumental Traditional Jazz Quartet. Blues. Composition by tenor sax player Bob Brough. Renowned Terry Clarke on drums. Adrean Farrugia piano, Artie Roth bass.
Broken link? Report it to us
This track appears by permission of contributing artist and/or record company.
It is for personal use only; no other rights are granted or implied.
Shop for jazz: