"Almost like being in love" by Martha J.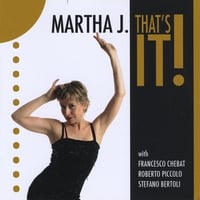 From
That's it! (Music Center) by Martha J.
About
This is the opening track of the CD "That's it!". "... an explosion of freshness, of vocal skill and great professionalism, together with a talent that no school can teach, in brief, a great, wonderful vocalist. This CD is a real revelation!" tgcom.it "...all these songs are remade with respect but with a personal style, and at the same time they have an up to date and fresh feeling; but the most surprising thing is the beginning of the CD, Almost Like Being in Love, where Martha lively leaps over a smooth and rustling background of brushes, with the other musicians that burst in with energy after the first theme... a perfect start! The CD is really all very good and I can listen to it over and over..." iltonnuto.it
Broken link? Report it to us
This track appears by permission of contributing artist and/or record company.
It is for personal use only; no other rights are granted or implied.
Shop for jazz: