"Dar'abesque" by DJ Logic and Jason Miles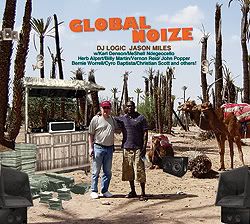 From
Global Noize (Shanachie) by DJ Logic and Jason Miles
About
This is taken from the Global Noize release - a collaboration between DJ Logic and Jason Miles. Together they mash up world music, funk, electronica and jazz into an intoxicating brew featuring Meshell Ndegeocello, Billy Martin (Medeski, Marin & Wood) , Vernon Reid (Living Colour), John Popper (Blues Traveler) Cyro Baptista (Herbie Hancock), Bernie Worrell (Talking Heads, Parliament Funk), Karl Denson (Karl Densons Tiny Universe, Lenny Kravtiz), Christian Scott & others.

This track appears by permission of contributing artist and/or record company.
It is for personal use only; no other rights are granted or implied.


Shop for jazz:
comments powered by

Disqus