"Long Way From Home" by Albert Rivera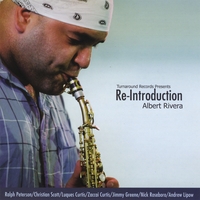 From
Re-Introduction (Turnaround Records) by Albert Rivera
About
The opening track of Albert Rivera's debut CD on Turnaround Records featuring Ralph Peterson on Drums, Christian Scott on Trumpet, Luques Curtis on Bass, Zaccai Curtis on Piano, and Albert Rivera on Soprano Saxophone Recorded in Brooklyn, New York by Peter Karl Studios on December 27th, 2007.
Broken link? Report it to us

This track appears by permission of contributing artist and/or record company.
It is for personal use only; no other rights are granted or implied.


Shop for jazz:
comments powered by

Disqus