"Theresa Minor" by Steve Grover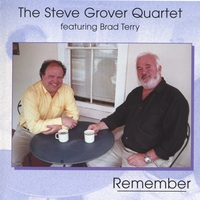 From
Remember (Invisible Music Records) by Steve Grover
About
"Theresa Minor" is a waltz from the CD Remember. It features Brad Terry, clarinet; Frank Carlberg, piano; Chris Van Voorst Van Beest, bass; Steve Grover, drums and composer.
In the stimulating settings of Steve Grovers compositions, Brad Terry is stimulated to dig deep into his improvisational resources. Grovers pieces do not adhere to conventional forms or harmonies. They disclose a writer with a distinctive style and a personal voice. - Doug Ramsey
Broken link? Report it to us

This track appears by permission of contributing artist and/or record company.
It is for personal use only; no other rights are granted or implied.


Shop for jazz:
comments powered by

Disqus