"On the Verge" by Julie Hardy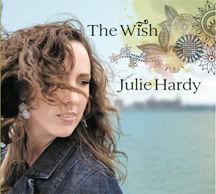 From
The Wish (World Culture Music) by Julie Hardy
About
On the Verge - Julie Hardy Recorded at Systems Two, Oct 3 & 4, 2006 Notes: With one step into the world of Julie Hardy, it is clear that she is not a typical jazz singer. "The Wish", her new release on World Culture Music, shows us a highly trained composer, improviser and re-inventor of jazz standards, backed by a spectacular collection of some of New York's best young jazz talent. In addition to re-inventing standards, this recent winner of the ASCAP Young Composer award demonstrates her talent as a composer with 6 original compositions. "On the Verge", "Patience" and "Soaring" are the components of a suite depicting Hardy's personal journey as a musician in New York City. These pieces are a good indication of her skills as a composer and showcase her gift for creating stunning melodies set over unique, modern harmonies and grooves. Hardy feels that she can "tell a story with or without lyrics", and her compositions prove to be just as evocative as the great standard songs found on this recording. "The Wish" draws together an influential collection of musicians who are impacting today's jazz scene. Ben Monder (guitar), Jaleel Shaw (alto saxophone), Sam Sadigursky (saxophones, clarinet), Randy Ingram (piano), Matt Clohesy (bass), and Kendrick Scott (drums) have collectively performed with jazz luminaries such as Roy Haynes, Terrance Blanchard, John Scofield, Paul Motion, Maria Schneider, and Dianne Reeves. "I purposely chose the players of The Wish because I didn't want to have to give them tons of direction. I wanted to capture each musician's unique sound and I wrote music that would provide a platform for them to express themselves". "The Wish" shows the world a diverse musical figure who expands the limits of modern jazz vocalism. With this recording, Hardy establishes herself as one of the most important young voices of today's vocal jazz scene, and foreshadows what promises to be a prolific and vibrant career.
Broken link? Report it to us

This track appears by permission of contributing artist and/or record company.
It is for personal use only; no other rights are granted or implied.


Shop for jazz:
comments powered by

Disqus