"L.M.S" by Robert Barone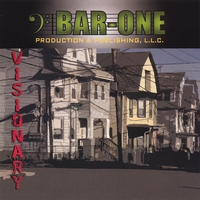 From
Visionary (BAR-ONE Production & Publishing LLC) by Robert Barone
About
BAR-ONE Production & Publishing LLC was started in 2006. Robert Barone President and Founder has been a writer, producer, professional Bassist and musician for thirty years. Born and raised in Newark, NJ, he has performed on CD's, Films, Ad Media, and of course Live! He has performed with likes of Sun Ra, Sprit of Life Ensemble, Ernie Edwards, Jimmy Ponder, Bill Saxton, just to name a few. He has performed in New York City at places like Town Hall, The Blue Note, CBGB's, S.O.B's. Among others His discography also includes his compositions Gods by Design Harlem Boys Choir, 2004 In the Middle of Nowhere Jackie Jones 1998 He's performed all over North America and Europe. Playing every genre of urban music from Jazz to Hip-Hop, Reggae and Gospel, he's played and loved it all. Barone's music vision and philosopy can best be described as "Urban Eclectic" - music for every mood. He felt a concept like this would be different and interesting.
Broken link? Report it to us

This track appears by permission of contributing artist and/or record company.
It is for personal use only; no other rights are granted or implied.


Shop for jazz:
comments powered by

Disqus