"De Tierra" by Mili Bermejo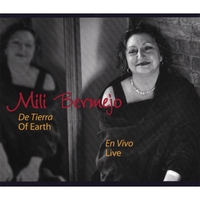 From
De Tierra (Ediciones Pentagrama) by Mili Bermejo
About
The title track from the new CD, featuring Boston-based vocalist/composer Mili Bermejo's eight-piece ensemble of the same name, recorded live at Scullers Jazz Club in May 2006. De Tierra performs a unique brand of modern pan-American music, mixing Ms. Bermejo's two decades of experience in the jazz world with the traditional Latin songs, poetry and social responsibility of the artist she absorbed growing up in Mexico City in the late 1960's and early 1970's.
Broken link? Report it to us

This track appears by permission of contributing artist and/or record company.
It is for personal use only; no other rights are granted or implied.


Shop for jazz:
comments powered by

Disqus