"Winter" by Gemini Soul f/Ajamu Akinyele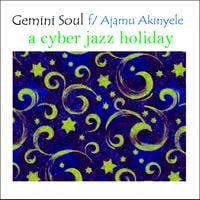 From
A Cyber Jazz Holiday (Pearl Jazz Recording Label) by Gemini Soul f/Ajamu Akinyele
About
"Winter," dedicated to the late Shirley Horn, appears on A Cyber Jazz Holiday by Gemini Soul f/Ajamu Akinyele.
Influenced and inspired by Shirley Horn, Vince Guaraldi, Nat King Cole and Dave Brubeck, A Cyber Jazz Holiday features original music, plus favorite standards such as Vince Guaraldi's "Christmas Time Is Here" - renamed "The Holidays Are Here" - and Nat King Cole's "The Christmas Song" - renamed "The Holiday Song." And don't forget about holiday classics such as "Silent Night" and "Hark! The Herald Angels Sing."
Producer/bassist Ajamu Akinyele (Ah-jah-moo + Ah-kin-yay-lay) and pianist Jon O'Bergh have produced a solid CD that captures your spirit and soul, while providing a unique sound called "Cyber Jazz - Funk Fusion," continuing to redefine jazz for a new generation.
Broken link? Report it to us

This track appears by permission of contributing artist and/or record company.
It is for personal use only; no other rights are granted or implied.


Shop for jazz:
comments powered by

Disqus