"Zack In The Box" by Geoff Lapp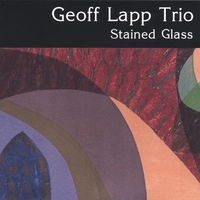 From
Stained Glass (Elephant Records) by Geoff Lapp
About
From the freestyle sparkle of "Sunny Rays" to the tightly patterned swing of "The Party's Over," Stained Glass reflects a wide spectrum of jazz colours. The album opens with a lighthearted caprice, glistening with bright, glassy tones that conjure up the play of sunlight at the edges of freshly-contoured glass. Hues deepen in Elsa, the Earl Zindars tune which Bill Evans elevated to jazz standard status. Initiated with a crystalline, Satie-like intro, the song soon liquefies into a wistful swing. The trio moves into straight-ahead swing on Richard Rogers' show-tune "With a Song in My Heart," with fine soloing featured all round as eights and fours get traded. Up next is a languorous rendition of Billy Strayhorn's "Day Dream," tinted with smoky brushwork, followed by a bluesy, minor-key original entitled "Kathy's Waltz." "Yo, Bro," another original, returns us to a sunnier palette of primary colours and rhythms. "The Rose Window" of the album, "Theme for Margret," is a song full of complex hues, modulating between mournful and contemplative, and resolving towards a gospel-laced hint of spiritual grace. Then along comes the playful "Zak in the Box," a funky original with a mock-stealthy, Mancini-meets-Horace Silver theme. "Sweet Lorraine" finds the trio swinging hard once again, and the disc closes with "The Party's Over," another solidly swinging standard. Stained Glass is an apt title for this collection of tunes; melodic lines are delivered with glassy clarity and chords come shimmering through with intarsiated precision. It is also an album that leaves lots of room for the listener to explore perspectives and to evolve personal interpretations. So sit back and explore how your own moods filter through the many jazz facets of Stained Glass.
-- Eric Squire
Broken link? Report it to us

This track appears by permission of contributing artist and/or record company.
It is for personal use only; no other rights are granted or implied.


Shop for jazz:
comments powered by

Disqus