"Old Devil Moon" by Sony Holland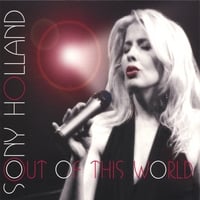 From
Out Of This World (Van Ness) by Sony Holland
About
For the first time ever San Francisco based vocalist Sony Holland has recorded a CD of jazz standards, Out Of This World. The disc's 13 tracks show her at her finest, applying her outstanding technique in the subtle service of lyric and melody. With effortless swing and perfect pitch she jazzes up a phrase by sliding gracefully into silken high-notes and soothing lows.
Personnel: Charles McNeal, sax; Jim Nichols, guitar; Benny Watson, piano; John Shifflett, bass; David Rokeach, drums
Broken link? Report it to us

This track appears by permission of contributing artist and/or record company.
It is for personal use only; no other rights are granted or implied.


Shop for jazz:
comments powered by

Disqus