"Just Squeeze Me" by The Vipers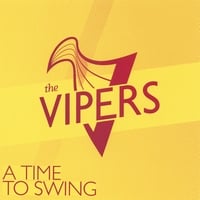 From
A Time To Swing (Hindsight) by The Vipers
About
The Vipers are run by the dynamic husband and wife team of Josh and Adrienne Hindmarsh.
Their diverse talents create a unique musical sound in New Zealand's music industry and their numerous projects have become a fixture to the Wellington city scene.
Since their inception a decade ago the band has maintained a busy schedule of gigs in Wellington and throughout New Zealand. Fronting the The Vipers is sultry singer Adrienne Hindmarsh, who's vocals are often compared to Norah Jones and Eva Cassidy. Her repertoire includes popular jazz standards, bossa novas and more popular tunes including hits by Burt Bacharach and Norah Jones. Adrienne Hindmarsh also brings to The Vipers her unique skill on the Hammond B3 organ, where her skill on the footpedal bass and use of dynamic chords make sure the classic sound of the Hammond B3 lives again. Founding member and guitarist Josh Hindmarsh contributes his unique driving chords and spirited improvisations in the spirit of George Benson and Wes Montgomery and his playing never fails to give the bands performance the upbeat swinging edge they have become known for.
To complete the bands lineup The Vipers use a rotating roster of special guest artists on the drums. For larger performances The Vipers add a horn section, augmenting their sound to include the trumpet, saxophone and trombone. Josh Hindmarsh's swinging arrangements create a contemporary take on retro ballroom swing, funky latin and '60s classic motown soul.
"Just Squeeze Me" was recorded at Conservatorium of Music Wellington, New Zealand, in December of 2005.
Broken link? Report it to us

This track appears by permission of contributing artist and/or record company.
It is for personal use only; no other rights are granted or implied.


Shop for jazz:
comments powered by

Disqus