"The Blues Are Gonna Get You" by Patti Wicks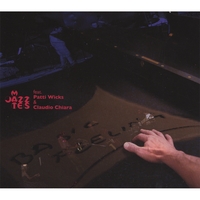 From
Basic Feeling (JazzGuests) by Patti Wicks
About
I wrote "The Blues Are Gonna Get You" a few years ago and performed the song in a few live concerts while on tour in Italy. The tune-a kind of humorous tribute to Monk-received such an enthusiastic response from the audiences, that I was asked to include it on my most recent CD, Basic Feeling. The CD was recorded at the end of my summer 2004 tour with my fine Italian JazzMates, also featuring a marvelous alto player, Claudio Chiara. The CD was released in Italy in January, 2005 and distributed in Italy and Europe by EGEA Music.
Broken link? Report it to us

This track appears by permission of contributing artist and/or record company.
It is for personal use only; no other rights are granted or implied.


Shop for jazz:
comments powered by

Disqus