"Cette nuit" by Equation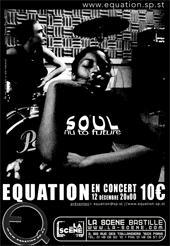 From
EQ4 (None) by Equation
About
Live performance by French soul/jazz group, recorded in Paris at La cave de ma.de in 2004. Group's Web site has more than an hour of additional live performances available as free downloads.
Broken link? Report it to us
This track appears by permission of contributing artist and/or record company.
It is for personal use only; no other rights are granted or implied.
Shop for jazz: