Scott Rosenberg: V: Solo Improvisations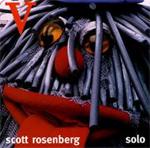 In the tradition initiated by Albert Ayler, the saxophone became a direct, hardwired extension of the human body—rather than an instrument constructed to obey external rules. Scott Rosenberg expands upon this idea on Solo Improvisations by playing notes that completely defy conventional assumptions of tone and order. His real talent, pursued at length here, is in the use of so-called "extended techniques" as a musical medium. The only formal commonality among the open-ended rumbles, pops, squeaks, and whistles on Solo Improvisations is their origins in human breath. Indeed, Rosenberg's breathing is intimately recorded along with the weird noises that he makes, reinforcing the idea that he treats his instruments as an extension of the human body.
The tunes on Solo Improvisations come with titles consisting of massive diphthongs. These agrammatical descriptions convey, in a general sense, Rosenberg's purposeful pursuit of the sounds outside the usual vocabulary of the saxophonist. This disc is so intimately personal that the listener is extremely taxed to build any kind of greater meaning out of the noises within. As an encyclopedic demonstration of the incredible range of expression possible on the clarinet, flute, and saxophone, Solo Improvisations is a high-flying success. However, it's also incredibly hard to understand how these sounds connect. Perhaps that's not the point.
Personnel: Scott Rosenberg: Bb contrabass clarinet; C flute; Eb sopranino saxophone.
Record Label: Barely Auditable Records
Style: Modern Jazz
Shop for jazz:
comments powered by

Disqus