NYJO, Buselli-Wallarab Jazz Orchestra, University of Northern Iowa
There are moments of heat, as on Kenny Werner's exhilarating "All That" (spicy solos courtesy of pianist Peter Roberts, alto Rachel Price, trombonist Andrew Thoreen), Jerome Kern's venerable "Yesterdays" (tenor Ryan Middagh, trumpeter Noah Alvarado) and Middagh's bracing "Renovation" (bass Jake Staron, soprano Rachel Price, flugel Chris Arnold), one of his three compositions (trombonist Joel Nagel wrote "Davidicus"). But as a whole, the flame burns too moderately. The usual high marks for competence, but no better than average for intensity.
Jentsch Group Large
Brooklyn Suite
Fleur de Son Classics
2007

Here's an interesting concept: a seven-part suite for orchestra centered around Chris Jentsch's electric guitar, which plays a pivotal role throughout. Jentsch wrote the Brooklyn Suite, commissioned by the American Composers Forum, as an homage to his home for the last eight years. It's a seamless work, played without pause between the particular movements, which vary in length from about one minute to more than thirteen.
While almost symphonic in framework, character and purpose, the suite embodies harmonic and rhythmic elements of jazz, with occasional improvisation arising from its well-structured bedrock, and is seldom less than engaging. The "Jazziest" segment, "Follow That Cab," is also the longest, and includes crisp solos by drummer John Mettam and tenor saxophonist Mike McGinnis. Trumpeter Russ Johnson and alto Ben Kono are impressive on "Imagining the Mirror." The suite precedes Jentsch's elaborate compositions "See You in Bali" and "Our Daily Bread," which mirror the suite in their innovative point of view.
Jentsch's music isn't for everyone. Casual listeners should be forewarned that it requires one's undivided attention to unearth and appreciate the myriad subtleties of consonance and color expressed therein. Those who admire, say, Maria Schneider, Carla Bley, Matthias Rüegg, Abdullah Ibrahim, Jamie Begian, Stan Sulzmann or their kin should find it amply rewarding.
David Linx / Brussels Jazz Orchestra
Changing Faces
O+ Music
2007

Changing Faces is quite a departure for the world-class Brussels Jazz Orchestra, the first album (to my knowledge) in which the BJO has chosen to play a supporting role from start to finish, setting the stage for singer David Linx and three guest vocalists. Linx, a well-known performer in Belgium, wrote the music and/or lyrics for eight of the album's dozen selections and sings on every one, either alone, in duets with Ivan Lins ("Bilhete"), Natalie Dessay ("Home, In the Spring"), Maria João ("Por Toda Minha Vida," "Miziane") or with a chorus ("Sweet Suite"). Lyrics to every song are printed (in lieu of liner notes) in the album's booklet.
The BJO is outstanding, even in a secondary assignment, while Linx is a talented and personable vocalist (for comparison's sake, think Kurt Elling or even Mark Murphy). The problem I have is with the songs, none of which is of more than passing interest, either melodically or lyrically. To state it more candidly, this ain't Porter, Berlin, Gershwin or Rodgers and Hart. It could be age-related, but I am seldom able to warm to today's popular songs, especially when compared to those written during Tin Pan Alley's golden age.
Others may feel differently, of course, and deem the BJO / Linx marriage highly pleasurable. As for me, unless the BJO were backing Sinatra or Tormé, an alliance that's no longer possible, I'd rather hear the band.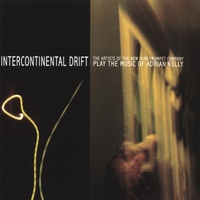 New York Trumpet Company
Intercontinental Drift
Self Published
2007

Intercontinental Drift pairs five members of the New York Trumpet Company with an Australian rhythm section and other musicians from Down Under including trumpeter/composer Adrian Kelly, trumpeter David Elton and trombonist Jeremy Greig (the last two on one track each) and a three-member string section called Bojeme. According to the booklet, there appear to have been a number of recording sessions, in Chicago, Saratoga, NY, and Perth, spanning nearly two years in 2005-06, with the trumpets recorded here, the rhythm, strings and guests in Australia. It's not clear whether Kelly, who wrote and arranged everything, was recorded in the States or in Oz.
Considering the logistical barriers, the finished product sounds pretty good, even though its sundered genesis isn't hard to discern, as there are times when the music fairly shouts "overdub." But that's not necessarily a drawback, as dubbing and other electronic procedures are more or less customary these days. What counts most is the music, not so much how it was pieced together.
Shop for jazz:
comments powered by

Disqus