Detroit through New York to Berlin and Brazil: Music Beats Around the World
Dexter Payne on clarinet and alto saxophone creates this Feeling with writer/arranger Thiago de Mello on acoustic piano, guitar and "organic percussion, handmade instruments personally crafted from gourds, sticks, seeds, shells and other scraps from nature. No bassist, no drummer. The idea, says de Mello, was to avoid the traditional setup of piano, bass and drums combined with a horn.
Clarinet as lead instrument often lends a quaint air. "Tal Como O Vinho, moves with elegant and relaxed grace into a three-way dance among acoustic percussion, clarinet and piano, a miniature melody small in scope but not stature. "Kimbolian Dawn, written to showcase pianist Richard Kimball, pounces with the sunny bounce of ragtime. (I smiled more than once at thinking, "Now we know the sound of Benny Goodman jamming after hours at a piano lounge in Rio... ) Yet when Payne switches to alto saxophone to lead "What About That, his crisp, articulate swing echoes the Paul Desmond classic "Take Five.
Composed by de Mello as "sort of an answer to Jobim's 'One Note Samba,' "Two Good Notes swings upon piano and guitar as delicate and bright as the promise of a new dawn. "A Hug For Gil Evans, in memory of de Mello's friendship with Evans, forged through their shared affection for Brazilian music, opens with a native vocal chant before twirling between percussion, clarinet and spellbinding piano by Haroldo Mauro, Jr.
Vocalist Ithamara Koorax also lends her angelic voice. In the title track, she rings in the dawn as supremely bright as a streaming ray of morning sunshine, and she transforms "An Evening Prayer into a reverent piece that seems precisely that. Her turns in "The Exile Song and "Urumutum/Swing Low Sweet Chariot are just as gorgeous.
Berlin, Germany
Radio Citizen
Berlin Serengeti
Ubiquity
2006
Berlin's Niko Schabel knows what German techno-music pioneers Kraftwerk began demonstrating all those years ago: if people program them right, even machines got soul.
A multi-instrumentalist and producer who leads a jazz quartet and plays with The Last Poets and other groups, Schabel weaves together the electronic jungle of Berlin Serengeti from samples, loops and electronic textures, plus his own alto saxophone, kalimba, percussion, Rhodes, clarinet and bass clarinet, flute, synthesizer and vocals.
"I think Radio Citizen encompasses a lot of my influences, Schabel writes. "There are shades of my love for sixties jazz, funk 45s, soul, dub and reggae, hip hop, afro beat, electronica, trippy stuff, d&b, early eighties avant-garde, surf, the old school, the new school, Arabian music, Latin, boogaloo, rocksteady, whatever!....But the artist I admire most is John Coltrane.
It's a very modern electronica, and sometimes quite Teutonic, work. Yet it also sounds very influenced by jazz, specifically by two giants of modern saxophone, Pharoah Sanders and Coltrane.
So you can pluck from it two singles for dance clubs, "The Hop and "Championsound, skeletal post-millennial electro-funk cold-chillin' to the point of frozen. Or you can dig flute and saxophone as they lead thickly African bows to Sanders and Coltrane; more specifically, to the 1960-65 Coltrane quartet with pianist McCoy Tyner and drummer Elvin Jones. Jones' wicked, brutal sound turbocharges "Night II and "Voices into flute/percussion free-for-alls. "Density drops an incendiary bomb spiritualized with Coltrane's ghost, its saxophone growing like a hyrdra's many heads from the throbbing bass, its flute rustling in between like a rattlesnake in the weeds. "The Prophets sounds like Sanders trying on colorful flowing robes of jungle and hip-hop.
"Producing this record was kind of like playing a game, Schabel notes on the CD sleeve. "Taking live recordings and turning them into samples, taking samples and arranging them as if they were live. I think this record seriously blurs the lines. One of the most live sounding tracks is the most digital cut-up one! The end result is hopefully as organic in feel as a good dub record. Important to me was that, never mind how much studio-tricknology was applied, behind every track is a song.
"Liberty should be not just a word seems more than just a lyric to the third track ("Everything ). It's more like a great summation of the adventurous spirit of Berlin Serengeti.
New York City, USA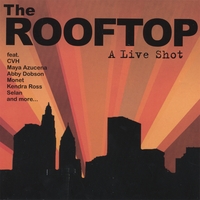 The Rooftop
A Live Shot
Rooftop Music
2006
A musical message of hope sent from a city built on an island to a city stranded in water, A Live Shot documents a New York City performance by rising East Coast neo-soul stars, a benefit concert for New Orleans musicians recovering from Hurricane Katrina.
Shop for jazz:
comments powered by

Disqus