October 2006
To complement his active touring schedule, Rasta man Rob Symeonn's misty vocals and emphatic reggae musings are augmented by a talented ensemble of groove-meisters. Symeonn sings with zeal and a noticeable sense of endearment throughout. Pulses vary somewhat on a per track basis, where harmonica-like synth tones often enamor a given groove. With DJs, and monster dub forays, the music floats like a butterfly while Symeonn's iterations of good cheer portray a blissful sequence of musical events. Thus, he makes it easier for us to veer away from life's blasé issues with these works seeped in warmth and good karma.


Derek Sherinian

Blood Of The Snake

InsideOut Music

2006
Southern California area keyboardist Derek Sherinian builds a bridge between thrusting progressive-rock motifs with snaky time changes and strong compositions that stick. Perhaps less athletic and complex than previous ventures, this album—featuring an all-star ensemble—offers a healthy dose of turbo-mode soloing jaunts by guitarist Zack Wylde and others. Drumming legend Simon Phillips and guitar god Yngwie Malmsteen generate excitement, as Sherinian morphs interesting synth/midi sounds into his rapid-fire attack. The ensemble mixes it up nicely. They touch upon contemporary jazz and world music during these often-relentless arrangements. Sherinian's sometimes employer, Billy Idol, concludes the heated session with a genial rendition of the 1970s pop hit, "In The Summertime.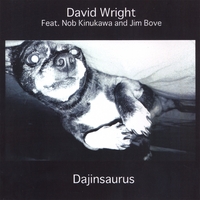 David Wright Feat: Nob Kinukawa and Jim Bove

Dajinsaurus

Dinosaurus

2006
This trio undertaking should rouse some interest for hardcore jazz-fusion aficionados. Guitarist David Wright's debut is a sprightly one. Indeed, fans of Steve Vai, Allan Holdsworth and other guitar elitists should take note. Wright has absorbed the genre credibly, evidenced by these nineteen workouts. With in-the-pocket grooves, shifts in tempo and numerous improvisational jaunts, the trio performs with vim, vigor and monster chops. Wright inflicts some hurt on his electric and Midi-guitars via brisk, legato phrasings and ascending single-note flurries. He employs distortion, odd-tunings and jazzy chord voicings to augment his attack. Wright and his band-mates deliver an action-packed, yet not overbearing string of events. It all flows rather well.