Chasin' Charlie's Ghost: Modern Guitar
Even though his razor-sharp, impeccably timed guitar runs almost dare your ears to keep pace, Esteban doesn't project the enormous ego of other singer/songwriter/guitarists who go by a single name (or symbol). He quite often, and quite comfortably, shares the spotlight with other soloists on these new recordings. Violin (played by his daughter, Teresa Paul) dances within the soft caress of his acoustic guitar, lost in the romance of "Besame Mucho. Trumpet players Jessee McGuire and Benjamin Paul (relation unknown) blaze to blister like Icarus the soundscapes of "Fuego Malagueña and "Alicante.


Guitar Shorty
We The People
Alligator
2006
Each summer seems to offer one song that you just crank up and bust out at the top of your stereo while you cruise in your car, sort of your summertime theme. That song, this summer, was for me the title track from this release.


One of Texas' most venerated blues guitarists, Guitar Shorty and his guitar "Red have stoked the engine room for Ray Charles, B.B. King, Guitar Slim, T-Bone Walker and countless other stars of rhythm and blues. Next year, he'll celebrate the fiftieth anniversary of his debut single. In the meantime, on his second release for one of Chicago's premier blues labels, he and Red burn white-hot and blue.


"We The People opens with a reference to the preamble of the US constitution, then stomps through a scalding electric blues about how tough it can be to just keep on keepin' on that stops just short of an open call to class warfare. Its lyrics might be funny if they didn't hit so sadly close to home, though it's almost impossible to resist smiling at, "I grab my guitar, try to bend a note/I look up at my neck and even my string's broke! But there's nothing funny at all about this raging electric blues, matched by the rough-house intensity of his lead vocal, which sounds spat out of his mouth like the hot and bitter thick taste of his own blood.


"Cost Of Livin' continues the theme of current economic and political times but reaches back into blues history, a solo electric blues where Shorty's foot stomps out the rhythm and his guitar and vocal sound metallic and dark and anguished, resurrecting the ghost of Howlin' Wolf.


We The People also shows the influence of Shorty's Texas guitar style on such well-known rockers as ZZ Top and the Rolling Stones. The jagged riff churning within "What Good Is Life? splits the difference between the hooks to "Jumpin' Jack Flash and "It's Only Rock And Roll, and every Stones guitarist from Brian Jones to Keith Richards to Ronnie Wood has loved to play in the style of Shorty's mid-song solo, which drags rock and roll through heavy Mississippi blues mud.


The thick meaty chords and ripping hot leads of the explosive "Sonic Boom and "Can't Get Enough continue the tradition of such fine Texas roadhouse blues as "La Grange, ZZ Top's famous whorehouse song.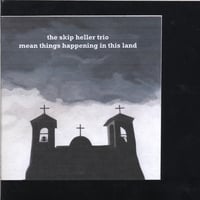 Skip Heller Trio
Mean Things Happening In This Land
Ropeadope
2006
Skip Heller seems like a pretty fun-loving guy. But this new release, from its opening cover of XTC's anti-prayer "Dear God through its concluding folksong about the closing of a Georgia mill, presents his own scathing commentary on current social, economic and political landscapes. Working with David White on drums and percussion and Chris Spies on organ, clavinet, electric piano and a "Radio Shack synth we found in his trailer, Heller sounds particularly enraged about the government's response in the aftermath of Hurricane Katrina.


His trio uses happy sounds to make this angered point. "President Nero? dances calypso on a sunlit Caribbean beach; Heller swings out soft chords to counterpoint Spies' bright solo then blasts off with extended inquisitive lines apparently in search of Pat Martino's holy guitar grail. "Heckuvajob sounds similarly carefree, with Heller's quicksilver leads stepping aside for a witty conversation between keyboards and percussion. "Katrina, Mon Amour opens in the retro surf guitar sound of Dick Dale before blasting off through a space-age guitar sound into a futuristic lounge, full of comfy fluffed-up keyboard pillows.


"Dear God shows off the variety of sounds that three musicians can coax from what might be considered a simple instrumental palette, with Spies' mid-song and closing organ solos honoring Booker T. & The MG's "Hang 'em High. Heller's ode to Ani DiFranco in soul-blues form, "The Kind Of Beauty That Moves grooves on a shimmering guitar riff that somehow sounds both hot AND cool, a bright beacon of cool blue guitar light.