Gregg Keplinger: Drum Fight at the GK Corral
How to describe the finished product? Imagine the sound of John Coltrane, Jimi Hendrix, Gene Krupa, and the St. Patrick's Church Choir—all blowing at once, and you're in the ballpark. In Gregg's own words: "It's different, eclectic, pretty out there. I just wanted to get various instruments together and see what happens. Just have them show up and blow.
It's also testament to the kid who heard Coltrane and never stopped listening. To the Wild West drummer and his deputies in music. To the thunder that's rocked Seattle for the last 40 years, and keeps on rollin'.
On the making of Absurd World Country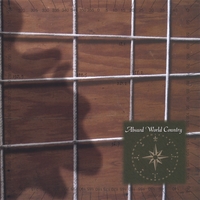 "Working on this CD was rather unlike any I'd done prior. Gregg came to me with a hard drive full of raw materials - performances he had collected at Chroma Sound and Avast! of nearly 20 players. Most of the musicians were "flying blind," being given no reference track, no key, and no tempo within which to work. They were given a timeframe to play what they were feeling and nothing more. The trick in the mix came in trying to match up parts that felt like they belonged together; something that was recorded in April at Avast! might be paired with an earlier track from March at Chroma, or two different days from the same studio. "Moth Moon E-Flips," which became a bit of a centerpiece to the disc, embodies this aesthetic best of all, taking Achil Jackson's delicate solo voice and placing on top of the sublime cacophony of the multiple horn parts, violin, guitars, keyboards and Gregg's swinging drums. Twelve players all recorded separately, brought together by technology to form a new whole. ~ Don Gunn
"This was my second recording with Gregg. I like his approach of mixing disparate ingredients. He has a wide scope of sounds in his life. He is comfortable listening to more than one recording playing simultaneously. This rich stew of sound challenges your orientation as a listener and player. Do you surrender or fight the onslaught? Do you pick one thread and follow it or jump between ideas? Do you blend with the whole universe of sound or add your distinct statement? I find the choices and sounds invigorating and refreshing. Gregg had several combinations of musicians lined up at the studio when I got there. It was organized spontaneity. Gregg picked who would play together and the order of combinations. There were elements of the many different musical worlds that Gregg inhabits. I decided to try something new by bringing a small sound system and signal processors to distort the sound of my saxophone. I also used my voice with some harmony effects and brought some whistles, bells, and drums. I played one or two things with a small ensemble and then Gregg gave me 20 minutes to experiment with feedback and play unaccompanied. Later he mixed and combined this stuff with other recordings in his collection. ~ Steve Griggs
"Gregg is unique in that his vision for his music is constantly expanding. For this project he compiled audio tracks from seemingly disparate sources (Seattle jazz players, opera singers, rock musicians, free improvisers) and blended them into a cohesive album. He is a pleasure to work with, because although he has a specific intent for the direction of the project, he allows those working with him a great deal of musical and creative freedom. ~ Paul Kikuchi
"I always enjoy working with Gregg as he is a musician more personally devoted to his instrument than almost any other that I know. His honesty and sincerity always reach through and touch the listener, and he has a very very strong, powerful presence. I hope to work with him again soon. ~ Gust Burns
"The idea of recording 17 soloists separately and mixing them together sounded like an imaginative way to break out of the open blowing cul-de-sac that has confined free jazz into cliché-ridden clickity-clack for the last 14 years, making it one of the most dated and stereotypical forms of musical expression the planet has ever known. Gregg recorded enough music for a 3 CD-set that might have blown the clouds off this tired town. Instead, he recorded some safe blowing sessions to alternate with a few masterpieces of mixology, cracking the cascade-riddled minds of this Scandinavian resort town open just enough to let a little fresh air in, but not so much to sweep their minds away, which is what might have happened had the project been less compromised by safe passages. Still, although it's a small step for Gregg Keplinger, it's a giant step for Seattle. As far as my personal experience went, it was the most pleasant day I have ever spent in a recording studio. The company could not have been better, and the food was great. It has been a long time since I have enjoyed such camaraderie among musicians. ~ Bill White
Shop for jazz:
comments powered by

Disqus